Warm and fuzzy.  That's how I felt after attending Gnomedex in Seattle for the first time. Those are words you generally wouldn't associate with a tech conference.  In case you've never heard of Gnomedex, it's an annual gathering  for self-proclaimed geeks, like myself, organized by tech enthusiast Chris Pirillo.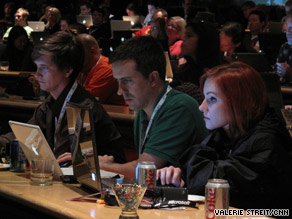 Full disclosure here – I came to know Pirillo when I started working with him on his quirky video segments for CNN.com Live.  We stream them each Thursday at 5:30 p.m. ET.
This year's theme at Gnomedex 9.0 was human circuitry – the intersection of humanity and technology.  Pirillo sought speakers who would share personal experiences that would inspire others.
I was uplifted by the fact that this year's conference attracted the most number of female attendees for any Gnomedex.  Why?  "Stories," Pirillo told me, as we were listening to Amber Case, a cyber anthropologist, share strangely alluring tales about human beings and prosthetic culture.  "Putting the word 'human' in there was like, 'Oh, so it's not a geek's conference as much as it is about people,' " said Pirillo.
Emotional talks from Drew Olanoff and Mark Horvath also elevated the 'H' factor at Gnomedex.  Olanoff, recently diagnosed with cancer, started a campaign on Twitter inviting others to blame everything in their lives on his cancer – by using the hashtag #blamedrewscancer.
Olanoff became emotional on stage while describing the radical shift his life took since he was diagnosed in May.  His story touched the audience – as evidenced by the prolific updates on FriendFeed and Twitter.  One person there tweeted, "I #blamedrewscancer for all the tears in the audience. #Gnomedex"  Olanoff wrapped up his session by embracing two attendees who had also been diagnosed with cancer.
Horvath, another inspiring speaker at Gnomedex, uses his vlog Invisiblepeople.tv to raise awareness about the plight of homeless people.  Once homeless himself, Horvath is currently touring 25 cities to put a face on the problem by bringing real stories to life.
Horvath's words had immediate impact.  The word 'homeless' briefly trended on Twitter during his session, and someone in the audience passed around a hat, raising $1800 for a tent city in Seattle called Nickelsville.
Pirillo told me he thought he wouldn't be able to top Scott Maxwell's standing ovation from last year's Gnomedex.  Maxwell's job is pretty much the envy of all geeks: he drives the Mars Rover.  This year, the audience stood up twice – once for Olanoff and once for Horvath.
If you didn't know any better, you'd assume the audience at Gnomedex was more interested in surfing the Web than in the conversation unfolding on stage.
"This is a conference where a lot of people have their laptops open," said Pirillo.  "We can always tell which speaker has lesser impact when the bandwidth spikes," he chuckled.
But the online activity is also a sign of a deeper engagement – a real-time feedback loop between speaker and audience.  During sessions, Pirillo monitors his Twitter stream #gnomedex to gauge what's resonating with the audience and what isn't.
"That's where you learn when you're doing good content or bad content.  If they're talking about what's happening you're OK," said Pirillo.
Pirillo made me promise to mention Mona Nomura, whom he credits for pulling 98% of the conference together in a mere two months.
"I'm not a female, and I'm not taking away from birth but every year, it's like giving birth," said Pirillo about the challenges of putting on Gnomedex each year.
"Now we have nine beautiful children.  Some are a little more beautiful than others, some are a little ugly," he laughed.  What about this one, I asked.  His reply: "This one was very beautiful.  There's a couple of pockmarks, but I find perfection in imperfections."
Posted by: Valerie Streit — CNN.com Producer
Filed under: Internet • social-networking sites • technology • Twitter