Gamers will pay as they go for downloaded video games in the very near future, according to the president of a game-development company.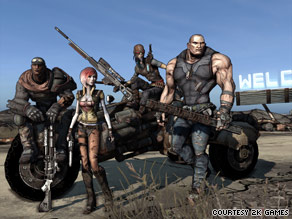 "Borderlands" is scheduled to be released October 20.
Christoph Hartmann, the president of 2K, tells CNN he expects people will pay for different levels of gaming content as developers find new ways to get their product to gamers. Hartmann believes downloadable content, or DLC, is just the first step, and that future gamers will be willing to pay fees to access new levels of a game.
"Some people just want the basic game and are willing to pay a certain amount for it," he says. "If you have great content, people will come."
While sales of video game consoles have slumped in recent months, Hartmann believes that lowering the prices of the Xbox 360 and PlayStation 3 will help bring back consumers.
But from a developers' perspective, there is more freedom on the PC side of gaming, he says.
Hartmann points to "Borderlands," a new online game from 2K Games and Gearbox Software due out on October 20, as an example of new content that takes risks.
"Borderlands" is set on the harsh, frontier planet of Pandora and sends players out in search of a mysterious Alien Vault. Hartmann describes it as a fusion between a first-person shooter game and a role-playing game. Gamers can join and leave the co-op game at will or choose to play in the single-player mode.
With "Borderlands," 2K Games hopes to challenge the conventions of modern shooter games.
"With a million different games out there, we had to be different," Hartmann says. "We feel very confident we've developed a different experience."
Gameplay isn't the only thing different about "Borderlands." Hartmann says 2K Games took a chance on a radical new style that mashes together traditional computer-animation techniques with hand-drawn textures. The result is an eye-catching spin on a game that was more than three years in the making.
The company also plans sequels to two popular games in its catalog – "Mafia II" and "Bioshock 2." Hartmann is vague about gameplay details but says 2K Games employed a formula to help develop the sequels.
"One-third known material, one-third improved and one-third new," he tells CNN. "That's where the 'Matrix' series went wrong - by trying too much new stuff."
- Larry Frum
Filed under: video games