Do you need more than 140 characters to express yourself? Are tweets too short to describe that delicious Qdoba burrito you had for lunch? Did the wrap-it-up music cut you off while you were accepting your Oscar?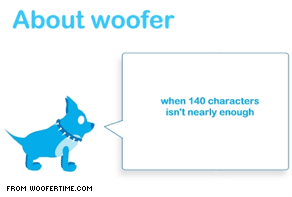 You may want to consider Woofer. This macro-blogging site offers a Twitter-like interface without any pesky character limits. In fact, your Woof must have at least 1,400 characters before it can be posted.
If you think the 1,400-character minimum is a bit excessive, you are probably right. Woofer admits it is a parody site and not a Twitter competitor:
This is a website for parody purposes only. Twitter neither endorses nor is affiliated with this website or company in any way.

We are huge fans of Twitter, and think it's an amazing concept.
Woofer pulls information from Twitter but does not require a password, so most posts, so far, are celebrity impersonations. Other users are posting copied text to reach the 1,400 mark.
Woofer may not serve any purpose at the moment, but I probably would have felt the same way about Twitter back in 2006. Does this anti-Twitter have a future? Or will this parody be gone tomorrow?
Posted by: Wes Finley-Price -- CNN.com Webmaster
Filed under: Internet • Twitter