Curious to know which iPhone apps are considered worthiest by the world's leading bloggers and tech enthusiasts?  I had a chance to eavesdrop on an all-things-cool session at the Gnomedex technology conference in Seattle last week.  Here are a few apps that people mentioned.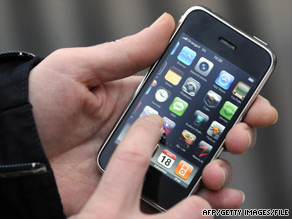 These changed my life – at least for a minute!
AudioBoo lets you record and share mp3 audio files up to three minutes in length.  You can add text, titles, photos as well as geolocation info. (Free)
PocketMeter allows you to measure any room or distance using sound to bounce off objects.  You just point the iPhone's microphone at the floor or wall and tap on the screen.  The app emits sound and measures the time it takes for the echo to return.  It can calculate distances between 8 inches and 13 feet within 0.4 inches of accuracy. ($0.99)
Sonar Ruler similarly uses echoes to measure distances up to 60 feet. ($0.99)
AppSniper is an app about apps.  It allows you to track apps when they go on sale and it tells you when they are within your price range. ($0.99)
Boxcar conveniently sends you push notifications anytime you receive a mention or a direct message on your Twitter account.  It conveniently works with most Twitter clients, so you can view a message once you receive a push. ($2.99)
Pocket Universe, an augmented reality app, is a planetarium in your pocket.  Just point your phone up to the sky, and it simulates the exact night sky above you, complete with the names of all the constellations.  The app works best on the iPhone 3GS, which has a digital compass and an accelerometer. ($2.99)
AutoStitch lets you create panoramas out of multiple pictures you snap with your iPhone's camera. ($1.99)
Geocaching is a global treasure-hunting game where players can locate hidden containers or 'geocaches.'  The app uses the iPhone's GPS capability to provide a list of real-time information about geocaches near your location. It's available in English, Dutch, French, German and Japanese.  ($9.99)
So what are your favorite iPhone apps right now?  Mine is Bump, which lets you exchange contact information with other iPhone users simply by bumping phones.  It certainly came in handy when I ran out of business cards at Gnomedex!
Posted by: Valerie Streit — CNN.com Producer
Filed under: Apple • iPhone • smartphones • technology