Amazon upset many Kindle owners when, in typical Big Brother fashion, it remotely deleted improperly distributed copies of George Orwell's Nineteen Eighty-Four and several other novels from private e-book readers this July. Despite receiving a refund for the books, many Kindle owners felt their personal property had been violated.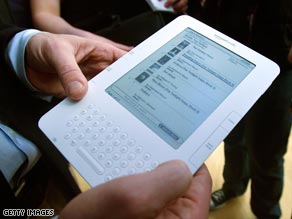 Yesterday Amazon e-mailed customers affected by the mass deletion and offered them a free, and no doubt properly licensed, copy of any book they lost, or the option of a check for $30.
Read an apology from Amazon CEO Jeff Bezos and the full letter Kindle users received below.
Hello,

On July 23, 2009, Jeff Bezos, our Founder and CEO, made the following apology to our customers:

"This is an apology for the way we previously handled illegally sold copies of 1984 and other novels on Kindle. Our "solution" to the problem was stupid, thoughtless, and painfully out of line with our principles. It is wholly self-inflicted, and we deserve the criticism we've received. We will use the scar tissue from this painful mistake to help make better decisions going forward, ones that match our mission.

With deep apology to our customers,
Jeff Bezos
Founder & CEO
Amazon.com"

As you were one of the customers impacted by the removal of [title] from your Kindle device in July of this year, we would like to offer you the option to have us re-deliver this book to your Kindle along with any annotations you made. You will not be charged for the book. If you do not wish to have us re-deliver the book to your Kindle, you can instead choose to receive an Amazon.com electronic gift certificate or check for $30.

Please email Kindle customer support at kindle-response@amazon.com to indicate your preference. If you prefer to receive a check, please also provide your mailing address.

We look forward to hearing from you.
Sincerely,
The Kindle Team
Posted by: Wes Finley-Price -- CNN.com Webmaster
Filed under: books • consumer tech • DRM