A DVD-quality copy of the sci-fi blockbuster "District 9" was posted to file-trading networks over Labor Day weekend. According to TorrentFreak.com, the movie was downloaded over one million times within the first 24 hours.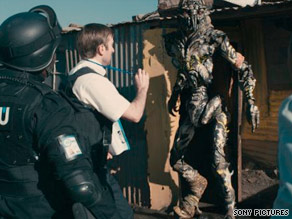 Downloads of "District 9" are likely to exceed the leaked workprint of "X-Men Origins: Wolverine," which News Corp. President and COO Peter Chernin claimed in May had been downloaded over 4 million times.
Most movies are available on the Internet within a few days of their release, but the quality of these early leaks is typically poor and all but the most prolific pirates avoid them.
The "District 9" release is described as an R5 copy, or a retail DVD sold in Region 5 - Eastern Europe, India, Africa, North Korea and Mongolia. Studios release R5 DVDs early and without any special features or image processing in an effort to compete with bootlegs in areas where piracy is prevalent. The R5 copies are not meant for sale in any other region but that doesn't stop them from being distributed on the Internet.
The popularity of "District 9" among an admittedly geeky online subculture and a high-quality early release have attracted millions of downloaders. Executives at Sony Pictures, which is distributing the film, are probably cringing at these numbers, but any effect on box-office sales has not yet been reported.
Don't shed too many tears for Sony Pictures, though. The film, which reportedly cost less than $30 million to make, has already earned over $100 million at North American theaters.
Posted by: Wes Finley-Price -- CNN.com Webmaster
Filed under: file sharing • Internet • Movies • piracy