A fun bit of news has been flying around the Web today and over the weekend: A carrier pigeon beat the Internet in a race to move 4 GB of data between two towns in South Africa.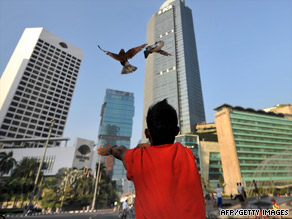 Pigeons being released in Jakarta, Indonesia.
A pigeon named Winston carried a thumb drive with the data 60 miles in about 2 hours, the BBC reports. Meanwhile, only 4 percent of the data was able to travel over the Internet during the same timeframe.
The race was set up by an IT company sick of slow download times in South Africa. The pigeon flew between two of the company's offices.
The country ranks 87th on the International Telecommunication Union's list of countries with the best Internet and communication technologies. That puts South Africa behind Albania, Iran, Palestine, Peru and China, for example. The U.S. ranks 17th on the 2007 list. Sweden and South Korea take the top two slots.
Unlimited Group set up the race. Kevin Rolfe, of that IT firm, told the UK's Daily Mail it's still a struggle to use the Internet in South Africa. "It's fine for emails and correspondence, but we need to transfer a lot of data from office to another and find it often lets us down," he told the paper.
Telkom, a large Internet provider in South Africa, told the BBC it doesn't take responsibility for the fact that the Internet lost a race to a bird.
Undersea broadband cables are joining Africa to networks on other continents, and there's hope those connections will lead to faster Internet experiences.
As for Winston, the popular bird has a Web site, Twitter feed and Facebook fan page.
Posted by: John D. Sutter -- CNN.com writer/producer
Filed under: e-mail