UPDATE: 2:09 p.m. Just updated the carrier profile for my phone via iTunes. I had to reboot, but MMS is now working and I have sent and received a few messages. Now that this is done - Bluetooth remote profile puhhhhleeeeese?
MMS (multi-media messaging) is finally going to be unlocked on the iPhone. ATT's Facebook Page says it should be out by "late morning" Pacific Time - translating to early afternoon for those of us in the Eastern Time zone.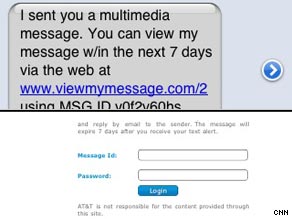 If you can't wait till the update comes through, the iPhone blog has a nice walk through that might sate you for a few minutes.
But why do we care? (Besides the fact that it's a feature long available on practically every phone known to man.) You can e-mail pictures and videos from the iPhone already - and when you use email they usually get there. Plus, on cell phone networks, MMS can sometimes be a crapshoot.
The real reason this is a relief, IMHO (in my humble opinion), is the nasty way AT&T handles incoming MMS messages from friends.
Under the old MMS system, iPhone users received a text message, with a link, a message ID and a password. So not only did it require extra steps to see the message, it was as if the user interface was purposefully designed to keep you from seeing that cute picture of a bunny your friend just had to send you.
Of course, the new system comes with it own issues - mainly what the additional load of iPhone users sending and receiving MMS's will do to AT&T's seemingly already overtaxed network. PC World has a decent look at that issue (which I found via a tweet from @NPRALLTECH on Twitter).
So what are your thoughts? Is this a feature you were chomping at the bit for, something you don't think you'll ever use, or are you somewhere in between? (Personally I'm still waiting for the Bluetooth remote profile to work so I can change tracks via my Bluetooth headphone ...)
Posted by: Cody McCloy
Filed under: Apple • e-mail • iPhone • smartphones • technology