UPDATE 9 a.m.: Drew Carey tells CBS he's willing to bid $1 million on the @drew name if he gets 1 million followers by the end of the year. (More on this from Mashable).
In his continued effort to raise money for cancer research, cancer patient Drew Olanoff, or @drew on Twitter, has announced he will auction off his Twitter name to the highest bidder.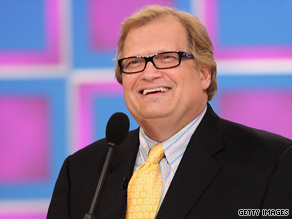 He plans to give the proceeds to the LIVESTRONG organization.
So far, the highest bidder is Drew Carey, the host of the "Price is Right," who has bid $25,000 on the name but has indicated that he will go as high as $100,000, according to The Telegraph, out of the UK.
The auction ends on November 9, Olanoff's birthday.
From Olanoff's blog:
All proceeds going to LIVESTRONG - the organization who has been there for me from Day 1 of diagnosis.  Bidding ends on November 9th (My Birthday), and the highest bid gets it.  Just tweet your bid with the hashtag #drewbid.I made sure to ask Ev at Twitter about it first, because I didn't want to go against any Terms of Service.  Since no personal financial gain was being made, it's a donation to a non profit, all was well.

Who would buy it?  Maybe Drew Barrymore, Drew Carey, Drew Brees, Drew Curtis, Drew Gooden?  Or a non celebrity Drew who wants the great Twitter name.  All IN the name of charity and Cancer Crushing.
Drew Carey currently goes by @DrewFromTV on Twitter.
Drew Olanoff created an Internet meme called "Blame Drew's Cancer" when he set up a Twitter hash tag where people blame Drew's cancer for everything that's going wrong in their lives. More on that from the Blame Drew's Cancer Web site:
On May 20th, 2009, Drew Olanoff was diagnosed with cancer.

Ever since that day, Drew has blamed everything on his cancer. Losing his keys, misplacing his wallet, Twitter being slow, the Phillies losing, etc.

Why? Because you have to beat up on Cancer to win… and you can help out.

Blame Drew's Cancer for anything you want by tweeting with the hashtag #BlameDrewsCancer and it'll come here. When Drew beats Cancer we hope to have sponsors that will donate a dollar for every participant to our partner, LIVESTRONG.
Posted by: John D. Sutter -- CNN.com writer/producer
Filed under: Twitter