Have you ever been in this situation: You're hundreds of miles from home, facing a new job in a HUGE city with no idea how to find anything, meet people or navigate the twisting highways?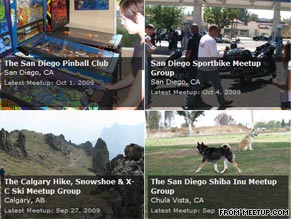 When I moved to Atlanta, this was me. I was constantly lost. I couldn't find a grocery store. And, more importantly, I didn't know anyone.
I found myself online all the time, desperately e-mailing friends back home. So I started looking online for local things to do. I started my search at Meetup.com.
It was easy to sign-up, and I joined a group with the most promising name: "Girls Night Out."
This quest helped inspire me to produce a video series at CNN.com/Live called "My Online Life." Our latest video, where we discuss and rank sites like Meetup, is at the bottom of this post.
Here's how Meetup works: Each "Meetup Group" leader organizes activities in public places and the members are notified through E-mails. I was hoping to find a new restaurant or go dancing and through that, find some local friends.
Unfortunately, "Girls Night Out" was staying in. The leader didn't plan anything, and my hope dwindled. Frustrated and tired of nights watching re-runs, I posted on the message board about why nothing was planned, and asked if anyone would like to get together for a drink.
Five girls responded, and so we set up a dinner. We met, chatted, shared a pitcher of mojitos, and got to be friends. Many more mojito nights later, I was on my way towards liking Atlanta.
Since then, I've joined 13 "meetup" groups. I can take my dog out for a play date, talk over travel, practice yoga, or play Jenga. Groups come and go and some are more active than others, but almost daily there's a new gathering invite in my inbox.
Want to get to know your city? Here are the two sites we reviewed:
Meetup.com: B+
It's easy to use, but sometimes starts up slowly
Yelp.com: B
Yelp has great reviews and event lists, but less opportunity for person-to person interaction
Embedded video from CNN Video
Posted by: Sarah Hill -- CNN.com Live associate producer
Filed under: Internet