Twitter may lack a business strategy, but it does have a wine strategy - and it does not come in 140 grapes.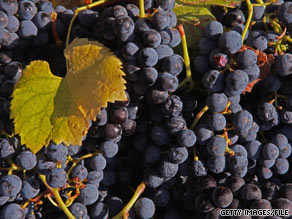 The microblogging service, valued at $1 billion and known for its 140-character "tweets," announced Thursday it's launching a wine label: Fledgling Wine. Twitter is partnering with Crushpad, a custom winemaking service in San Francisco, to produce the wine; a portion of the proceeds will go to Room to Read, a non-profit supporting reading programs and libraries in Asia and Africa.
Twitter co-founders Biz Stone and Evan Williams wrote on the Fledgling blog, "The Fledgling Initiative embodies two things that are at the core of Twitter's mission: providing access to information and highlighting the power of open communication to bring about positive change."
The first two wines, a Pinot Noir and a Chardonnay, will be released in August 2010 and can already be pre-ordered online. Each bottle will cost $20; Room to Read will receive $5 per bottle. The grapes, picked by the Twitter staff, are being fermented.
Crushpad executive Noah Dorrance is bullish about the new label and has ordered extra grapes. When asked if each bottle will have only 140 grapes, he laughed and said, "I wish! There are approximately 800 grapes per bottle."
Twitter on Thursday also launched a Japanese edition, its first foray into tweeting in a foreign language. No word yet on whether sake is next on the Twitter drink menu.
Posted by: Eric Kuhn -- CNN Audience Interaction Producer
Filed under: Twitter