The ultimate time-consuming game is joining forces with the ultimate online time-wasting tool. "Civilization" and Facebook will combine to make a new game for the social-networking site.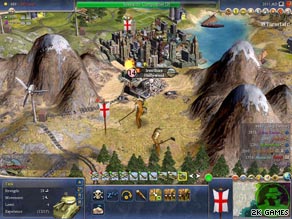 Creator Sid Meier announced on Facebook that Firaxis Games is working on a new game called "Civilization Network." Meier said he expects the full game to be available in 2010, but he is seeking beta testers to help work out the bugs.
"Civilization" is well known for its turn-based strategy as the player guides a civilization from infancy to world domination. Created in 1991, the PC-based game has undergone 13 different transformations (including expansion packs and spin-offs) with the latest, "Civilization Revolution," launched in 2008 for gaming consoles.
Meier said the game will offer everything you enjoy in Civ in a fully persistent environment – you can play as much as you like, whenever you like, and it'll be free.
Reactions among gamers range from excitement - and promises of joining Facebook just to play the game - to frustration that Firaxis isn't developing the next version of "Civilization" for consoles.
Players who want to get involved in the closed beta will need to join Sid Meier's Civilization Network on Facebook for more details.
- Larry Frum
Filed under: Facebook • video games