Popular online video service Hulu will start charging subscription fees sometime next year, says News Corp. Deputy Chairman Chase Carey.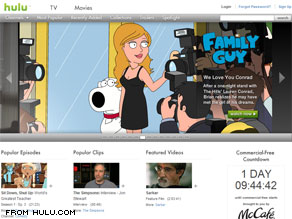 While speaking at a recent Broadcasting & Cable summit Carey announced his plans for Hulu: "I think a free model is a very difficult way to capture the value of our content. I think what we need to do is deliver that content to consumers in a way where they will appreciate the value. Hulu concurs with that, it needs to evolve to have a meaningful subscription model as part of its business."
Hulu.com has attracted a large online audience by offering commercial-supported TV shows and movies from NBC, ABC, Fox, and other networks since 2007. However, the addition of a subscription fee may send most of Hulu's users searching for alternatives.
I use Hulu frequently to watch everything from Comedy Central's "Daily Show" to Fox's "Family Guy." I stomach the commercial interruptions in exchange for the high-quality streaming content, but I certainly won't be pulling out my credit card if the service puts up a subscription pay wall. And I doubt many other customers will be happy to start paying money for a service they previously received for free.
The move to a fee-based business model is a decision that will still have to be approved by the Hulu board, and I hope someone has the sense to blackball this idea. But common sense doesn't always prevail in the entertainment industry -  if it did, we might still have "Arrested Development."
Posted by: Wes Finley-Price -- CNN.com Webmaster
Filed under: HDTV • Hulu • online news • online video