Google's phone service prides itself on simplicity. You get a Google phone number and then Google Voice forwards calls to your Google number to your home, office or mobile phone.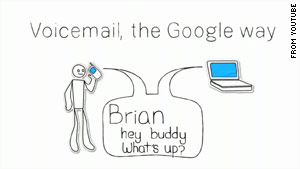 One number. One business card. Pretty simple.
But that approach creates another issue: To use Google Voice, you had to change your number.
On Tuesday, Google announced on its blog that that's not the case anymore. You can sign up for Google Voice with most any number you choose. One of the biggest advantages is that Google will - for free - transcribe your voicemail so you can read it online or in text messages. That way you don't have to listen to ramble-on info when all you want is the call-back number.
Here's a video that explains how Google Voicemail works.
There are still a few catches, though. The first is that you can't access all of Google Voice's features when you're using a non-Google number. That means you can't have calls forwarded from that number to other phones. And, for now, Google Voice is available by invitation only.
What do you think? Is Google Voice without the Google number useful? Do you think this will catch on in a big way? Let us know in the comments below.
Posted by: John D. Sutter -- CNN.com writer/producer
Filed under: Google • Google Voice • mobile phones