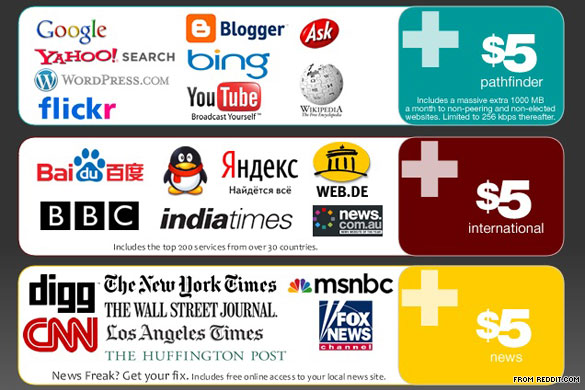 *
click
to view full chart
Net neutrality is a complex issue, but this user-generated chart posted on Reddit does a great example of illustrating a worst-case scenario.
The chart envisions a future without Net neutrality, where Internet Service Providers (ISPs) are allowed to adopt pricing models similar to cable television. Consumers pay subscription fees for individual slices of the internet that ISPs package into tiered pricing plans.
This pricing model is a far cry from the freedom most ISPs currently offer. Rather than charging for individual Web sites you probably purchase a "dumb pipe" of information from your ISP, and are free to use this data however you wish. But Net neutrality supporters claim without strong neutrality regulation ISPs could change their behavior and consumers will suffer.
Do you believe Net neutrality regulation is required to prevent this chart from becoming a reality or is free-market competition enough to ensure consumers' best interests?
Posted by: Wes Finley-Price -- CNN.com Webmaster
Filed under: computers • Internet • online news • technology