October 13, 2009
Posted: 09:41 AM ET
Popular ad-blocking Firefox add-ons, such as AdBlock and Skipscreen, are upsetting some Web site owners who generate revenue from advertisements.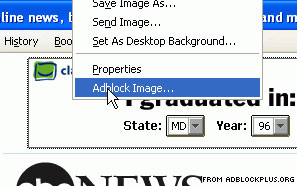 In a recent article, TechDirt clashes with several blog owners who claim users of ad blockers are stealing.
Michael Lankton of Connected Internet argues:
When you come to one of my websites you are absolutely welcome to not click any of the ad links. You are equally at liberty to not pay attention to the ads should you so choose. I will also make a promise to the user that the monetization of my sites will not be intrusive and will not draw undue attention to itself.

That said, if you block the ads on my site, pound sand. It's practically like you are stealing from me.
File host MediaFire has responded to the the add-on SkipScreen, which allows users to skip its ads, by firing off a legal takedown notice to Mozilla.
However, Mozilla has refused to honor the takedown request. And the Electronic Frontier Foundation supports Mozilla's decision:
Free file hosting provider MediaFire seems to think that, when you follow a link to download a file from its service, it has the right to control your browser. This is yet another example of a web site owner forgetting that it's your computer, and it's none of their business how you choose to experience their web pages.
So what do you think? Would you use an application that blocked ads from appearing, even if those ads supported the site you were visiting?
Posted by: Wes Finley-Price -- CNN.com Webmaster
Filed under: browsers • Internet
October 12, 2009
Posted: 08:30 AM ET
Have you ever been in this situation: You're hundreds of miles from home, facing a new job in a HUGE city with no idea how to find anything, meet people or navigate the twisting highways?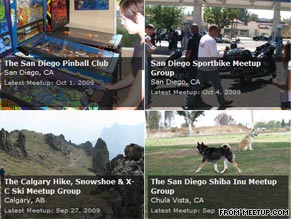 When I moved to Atlanta, this was me. I was constantly lost. I couldn't find a grocery store. And, more importantly, I didn't know anyone.
I found myself online all the time, desperately e-mailing friends back home. So I started looking online for local things to do. I started my search at Meetup.com.
It was easy to sign-up, and I joined a group with the most promising name: "Girls Night Out."
This quest helped inspire me to produce a video series at CNN.com/Live called "My Online Life." Our latest video, where we discuss and rank sites like Meetup, is at the bottom of this post.
Here's how Meetup works: Each "Meetup Group" leader organizes activities in public places and the members are notified through E-mails. I was hoping to find a new restaurant or go dancing and through that, find some local friends.
Unfortunately, "Girls Night Out" was staying in. The leader didn't plan anything, and my hope dwindled. Frustrated and tired of nights watching re-runs, I posted on the message board about why nothing was planned, and asked if anyone would like to get together for a drink.
Five girls responded, and so we set up a dinner. We met, chatted, shared a pitcher of mojitos, and got to be friends. Many more mojito nights later, I was on my way towards liking Atlanta.
Since then, I've joined 13 "meetup" groups. I can take my dog out for a play date, talk over travel, practice yoga, or play Jenga. Groups come and go and some are more active than others, but almost daily there's a new gathering invite in my inbox.
Want to get to know your city? Here are the two sites we reviewed:
Meetup.com: B+
It's easy to use, but sometimes starts up slowly
Yelp.com: B
Yelp has great reviews and event lists, but less opportunity for person-to person interaction
Embedded video from CNN Video
Posted by: Sarah Hill -- CNN.com Live associate producer
Filed under: Internet
October 7, 2009
Posted: 09:44 AM ET
In a press release Tuesday AT&T announced it will now allow iPhone VoIP apps, like Skype, to run on the cellular network.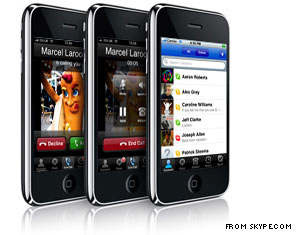 AT&T previously restricted all VoIP apps, which transmit voice calls over a data network, for use only when an iPhone was on a Wi-Fi network. With these restrictions dropped, iPhone customers can now use AT&T's 3G data network to make calls without using their wireless minutes.
AT&T claims this change was due to customer demand:
In late summer, AT&T said it was taking a fresh look at VoIP capabilities on iPhone for use on AT&T's 3G network, consistent with its regular review of device features and capabilities to ensure attractive options for consumers.

"iPhone is an innovative device that dramatically changed the game in wireless when it was introduced just two years ago," said Ralph de la Vega, president and CEO, AT&T Mobility & Consumer Markets. "Today's decision was made after evaluating our customers' expectations and use of the device compared to dozens of others we offer."
Recent FCC scrutiny over Apple's rejection of the Google Voice app, as well as a congressional push for net neutrality are likely also responsible for AT&T's change of heart.
New VoIP (Voice over Internet Protocol) apps that take advantage of 3G capabilities should be available soon. However, AT&T's 3G network where I live in Atlanta is about as reliable as the Detroit Lions, so I doubt I will be dropping my traditional voice service any time soon.
Posted by: Wes Finley-Price -- CNN.com Webmaster
Filed under: Apple • consumer tech • iPhone • online news • Uncategorized
October 5, 2009
Posted: 03:19 PM ET
UPDATE 9 a.m.: Drew Carey tells CBS he's willing to bid $1 million on the @drew name if he gets 1 million followers by the end of the year. (More on this from Mashable).
In his continued effort to raise money for cancer research, cancer patient Drew Olanoff, or @drew on Twitter, has announced he will auction off his Twitter name to the highest bidder.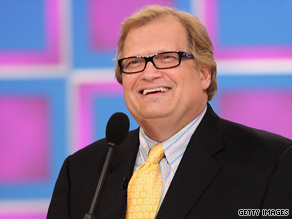 He plans to give the proceeds to the LIVESTRONG organization.
So far, the highest bidder is Drew Carey, the host of the "Price is Right," who has bid $25,000 on the name but has indicated that he will go as high as $100,000, according to The Telegraph, out of the UK.
The auction ends on November 9, Olanoff's birthday.
From Olanoff's blog:
All proceeds going to LIVESTRONG - the organization who has been there for me from Day 1 of diagnosis.  Bidding ends on November 9th (My Birthday), and the highest bid gets it.  Just tweet your bid with the hashtag #drewbid.I made sure to ask Ev at Twitter about it first, because I didn't want to go against any Terms of Service.  Since no personal financial gain was being made, it's a donation to a non profit, all was well.

Who would buy it?  Maybe Drew Barrymore, Drew Carey, Drew Brees, Drew Curtis, Drew Gooden?  Or a non celebrity Drew who wants the great Twitter name.  All IN the name of charity and Cancer Crushing.
Drew Carey currently goes by @DrewFromTV on Twitter.
Drew Olanoff created an Internet meme called "Blame Drew's Cancer" when he set up a Twitter hash tag where people blame Drew's cancer for everything that's going wrong in their lives. More on that from the Blame Drew's Cancer Web site:
On May 20th, 2009, Drew Olanoff was diagnosed with cancer.

Ever since that day, Drew has blamed everything on his cancer. Losing his keys, misplacing his wallet, Twitter being slow, the Phillies losing, etc.

Why? Because you have to beat up on Cancer to win… and you can help out.

Blame Drew's Cancer for anything you want by tweeting with the hashtag #BlameDrewsCancer and it'll come here. When Drew beats Cancer we hope to have sponsors that will donate a dollar for every participant to our partner, LIVESTRONG.
Posted by: John D. Sutter -- CNN.com writer/producer
Filed under: Twitter