On my scavenger hunt into cloud computing, I learned there are few if any ways to compare one cloud computing company to another. Say, for instance, you wanted to upload the contents of your laptop to "the cloud" of the Internet. It would be hard if not impossible to get a comparison about how well companies like Microsoft, Google, Amazon and IBM provide this service, which is sometimes called "cloud storage."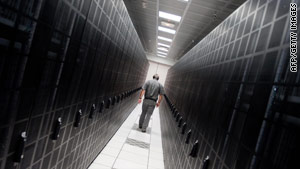 One emerging and important way to make these comparisons, though, is energy efficiency.
The computer farms that make up the cloud are energy-sucking machines. It costs more to cool the computers than to run them. The U.S. Environmental Protection Agency says 1.5 percent of all electricity consumption in the country in 2007 came from the data centers that house these cloud computers. And that electricity use is expected to double every five years as we store and process more info in the cloud. (View the EPA's full report to Congress on the subject).
But not all clouds are equal. And the EPA and an industry group called The Green Grid have made it part of their missions to give consumers ways to compare the emerging cloud power-houses.
In April, the EPA will unveil an "Energy Star" ratings program for data centers, according to Michael Zatz, manager of the EPA's Energy Star program for commercial buildings. The program is voluntary, so not everyone will report their efficiencies, but a number of companies, including Microsoft, are already on board.
Here's an site with more information on this emerging program for green data centers. Scroll down half-way to find a list of some companies involved. Also check out Green Grid for a list of computing companies that are working with that group towards a more energy-efficient future for computing.
And let me know what you think. Is it a big deal that so little information is available about cloud computing? What would you like to know that's not being shared?
Posted by: John D. Sutter -- CNN.com writer/producer
Filed under: climate change • cloud computing • consumer tech • data centers • Energy