Cloud computing appears to be growing like mad.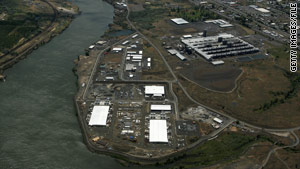 Instead of computing on our desktops and laptops, many people are moving the heavy lifting to data centers in secretive locations all of the world.
These centers are owned largely by big companies like Google, Amazon, IBM and Microsoft, which charge monthly fees to clients who want to move their IT "into the cloud."
This transition may seem subtle. But writer Nicholas Carr argues it's on pace with changes in the electricity industry a century ago that gave us the modern power utilities we have today.
I talked recently with Carr about his book, "The Big Switch: Rewiring the World, from Edison to Google" for a first-person story I wrote about the cloud.
In the book, Carr writes that people used to build small power-generation stations for individual factories and neighborhood blocks. As electricity became more common, and more important for industry, these small plants consolidated because it was more efficient - and so that power could be delivered to everyone across a large and complicated grid.
This is happening today with information. Businesses used to have computer servers in a closet or some back corner of the office. Many still do. But the new model is the cloud, in which these individual IT departments are outsourced to big companies who say they have several advantages: efficiency at a larger scale, expertise and higher reliability.
The U.S. government is jumping on board with the idea. It recently announced a "government cloud" project with Google.
Carr says we're at the beginning of a major information-delivery revolution.
For now, the cloud is rather scattered. A number of companies participate and some of the clouds are private or semi-private. Going forward, Carr expects the data centers to consolidate, leaving control of the cloud in the hands of a few mega-companies - kind of like electric utilities.
The big difference between power and information? Carr says regulations haven't caught up with the cloud.
As a result, it's unclear who owns some data stored in the cloud, and there are no standard file formats that would allow consumers to transfer their data - their photos, blogs, etc - from one cloud company to another, he said.
Posted by: John D. Sutter -- CNN.com writer/producer
Filed under: cloud computing • consumer tech • data centers