This is too weird: A bird reportedly has dropped a "bit of baguette" onto the world's largest atom smasher, causing the machine to short out for a period of time.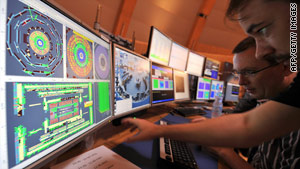 It's just the latest mishap for the Large Hadron Collider, or LHC, which scientists plan to use to get insight into the universe's origins. The LHC, which has a 17-mile track to circulate protons and is located underground on the French-Swiss border outside Geneva, Switzerland, is the largest particle accelerator in the world and cost about $10 billion.
The LHC booted up in September 2008, but technical problems forced it to shut down shortly after its launch. When the mystery bird reportedly dropped a piece of bread onto the particle accelerator's outdoor machinery earlier this week, the device was not turned on, according to reports, and therefore did not suffer major damage.
Had the machine been activated, the baguette incident could have caused the LHC to go into shutdown mode, the UK's The Register reports. The Register quotes Dr. Mike Lamont, a worker at the European Organization for Nuclear Research (or CERN), as saying that "a bit of baguette" had been dropped on the LHC, possibly by a bird.
A call to CERN's press office was not immediately returned.
ZDNet writes that the baguette in question did not have a chocolate filling:
The [CERN] spokesperson said the bread, which was "naked and unfilled", had caused a short circuit when dropped on an electrical installation that supplies energy to the massive experiment. While the bird was unconfirmed as the definite culprit, it had been spotted beforehand near the substation carrying bread, said the spokesperson.
The avian accident has prompted a number of online parodies and jokes (this photo is my favorite). CNET UK, a CNN content partner, writes jokingly that it's clear the bird was French since it was carrying a baguette:
We're not ones for crude for national stereotyping, but the detail that the bird dropped a bit of baguette suggests this must have occurred on the French side of the LHC. It's unclear whether the bird was actually riding a bike, or indeed wearing onions and a beret.
A Discover blog exclaims: "Zut alors!"
And CrunchGear says the strange incident shows the LHC is "so abhorrent to nature that the universe is contriving to snuff it out."
Posted by: John D. Sutter -- CNN.com writer/producer
Filed under: Large Hadron Collider • science • Space • universe