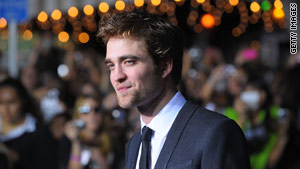 The new "Twilight" vampire movie, due out Friday, is already sinking its teeth into the Web audience.
But searchers beware. Some online downloads for "The Twilight Saga: New Moon" and video interviews with cast members may not be what they seem. They could carry computer viruses.
This news comes from a computer security company, PC Tools, which says in a news release that a handful of search terms and links should make fans and would-be movie pirates suspicious. Among the phrases to watch out for: "Watch New Moon Full Movie," "streamviewer," and "Stephenie Meyer at 365Multimedia.com."
365Multimedia.com doesn't actually host interviews (it's a desktop background and screensaver website), and the link in question doesn't actually go there either. Instead, users are directed to a malicious website that takes that age-old scareware path: A pop-up alerts users that they are infected with some sort of malware, and then directs them to a download site so they can get a phony antivirus software product to remedy the issue.
365Multimedia could not be reached immediately for comment. Visitors to the site aren't at risk of getting their machines infected.
Scammers have been preying in recent years on the online popularity of news events and pop culture. When a topic like "Twilight" gets hot online, virus engineers use popular search terms to get more clicks and thus infect more machines.
Of course, you also could take the "Twilight" virus idea figuratively.
As one of the film's actors, Robert Pattinson, told The Boston Globe, "I don't know how, it [the "Twilight" series]  just explodes so quickly. It takes seven months to take hold – it's like a virus."
Posted by: John D. Sutter -- CNN.com writer/producer
Filed under: pop culture • Security • virus