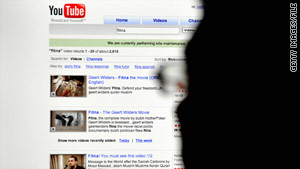 Some of YouTube's videos started featuring machine-generated captions this week. That's a potentially huge change for the deaf and hearing impaired, who still don't have access to the vast majority of online video.
Writing on the Official Google Blog (don't forget, Google owns YouTube), software engineer Ken Harrenstien says voice-to-text technology - while clunky at times - must be used to caption the world's videos. The problem is too large for people to handle alone, writes Harrenstein, who is deaf:
Every minute, 20 hours of video are uploaded. How can we expect every video owner to spend the time and effort necessary to add captions to their videos? Even with all of the captioning support already available on YouTube, the majority of user-generated video content online is still inaccessible to people like me.
The YouTube auto-captions use the same speech-to-tech technology as Google Voice.
Harrenstien says this week's announcement of auto-captions makes him "more hopeful than ever" that Google can achieve its goal of "making videos universally accessible."
NYTimes notes that the captions also stand to make YouTube money:
The technology will also open YouTube videos to a wider foreign market and make them more searchable, which will make it easier for Google to profit from them.
For now, the captions apply only to a handful of YouTube channels, but it will be interesting to watch where this technology goes. The BBC says that, even in Google's demo, the caption technology is not perfect. The phrase "sim card," for instance, was mistaken for "salmon" when it was captioned.
Will this technology help you, or someone you know? Or are you frustrated by machine translations of speech into captioning? Let us know in the comments section.
Posted by: John D. Sutter -- CNN.com writer/producer
Filed under: captioning • Google