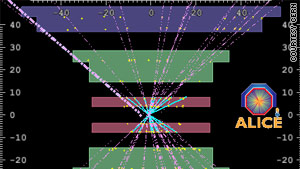 Alarmists take note: The planet is intact after particles began smashing into each other at the Large Hadron Collider today.
For the first time, the $10 billion machine circulated two proton beams simultaneously in its 17-mile tunnel underneath the border between France and Switzerland.
This is a major step toward finding the answers to fundamental physics questions about the nature of matter in the universe, and how the world as we know it began.
"The events so far mark the start of the second half of this incredible voyage of discovery of the secrets of nature," said Tejinder Virdee, spokesperson for the Compact Muon Solenoid experiment, in a statement.
The particle collisions are finally happening despite discredited theories that the accelerator could produce a black hole that could swallow the universe, and that it is being sabotaged from the future. Read more about these theories
The project appears to have rebounded from a substantial setback in September 2008. Just nine days after it started up, one of the 25,000 joints that connect magnets in the LHC came loose, and the resulting current melted or burned some important components of the machine, said Steve Myers, director of accelerators at the European Organization for Nuclear Research (CERN).
The collider has drawn thousands of physicists from around the world together in a collaborative search for never-before-seen particles and new properties of nature. These particles include the Higgs boson, which theoretically gives mass to matter.
Today's collisions are relatively low-energy; the next step is to get particles colliding at higher energies than ever before. The accelerator should reach an energy of 1.2 TeV (teraelectronvolts, or a million million electronvolts) per beam by Christmas if all goes well, CERN said.
Read more about the collider going back online.
Posted by: Elizabeth Landau -- CNN.com Writer/Producer
Filed under: Large Hadron Collider • Physics