Apple has won its copyright-infringement claim against the Mac cloning company Psystar.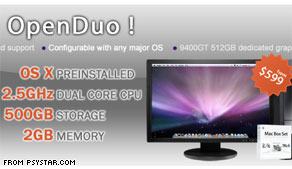 Psystar sold PCs that ran Apple's OS X software. The computers functioned essentially the same as standard Macs, but were sold for less than Apple-built machines. Psystar argued that since the OS X software was legally purchased, the right of first sale allowed them to resell the operating system on custom-built computers.
However, the courts sided with Apple (pdf), and agreed that "customers were contractually precluded from utilizing Mac OS X on any computer hardware system that was not an Apple computer system." In addition, Psystar circumvented "lock-and-key technological measures to prevent Mac OS X from operating on non-Apple computers," which violates the Digital Millennium Copyright Act (DMCA).
Groklaw provides analysis of the court order and concludes:
That means damages ahead for Psystar on the copyright issues just decided on summary judgment, at a minimum. The court asked for briefs on that subject. In short, Psystar is toast.

The court's message is clear: EULAs mean what they say; if you don't want to abide by its license, leave Apple's stuff alone.
Psystar, which is also fighting a second infringement case in Florida, will likely appeal the decision, but for now it looks like you Snow Leopard fans will be forced to stick with Apple-approved computers. Or build your own Hackintosh.
Posted by: Wes Finley-Price -- CNN.com Webmaster
Filed under: Apple • computers • online news • piracy