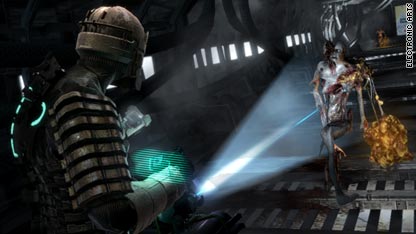 It was only a matter of time.
On the heels of "Dead Space's" successful debut last year, Electronic Arts has officially announced that the game series' storyline will continue with the creation of "Dead Space 2." Hero Isaac Clarke will return to battle necromorphs with new weapons.
Visceral Games will be producing the new saga, which had been rumored for months. A press release from EA says that survival won't be the only thing on Isaac's mind in "Dead Space 2" – "this time, he calls the shots."
Released in October 2008, the original action-horror game won nearly 100 industry awards and received a score of 89 percent from gamerankings.com. Earlier this year EA released "Dead Space: Extraction", a prequel story that was exclusive to Nintendo's Wii system in an effort to win over a new audience.
Executive producer Steve Papoutsis said, "Expect plot twists that will surprise you and a huge cast of twisted, disgusting monsters that are sure to scare the daylights out of you."
"Dead Space 2" is being developed for the PS3, Xbox 360 and the PC. No release date has been announced.
Posted by: Larry Frum for CNN.com
Filed under: Games • Gaming • Microsoft Corp. • Sony • video games