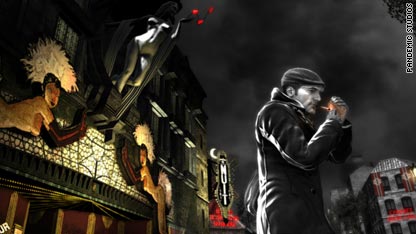 Musical cues are often used to highlight or signify moods in games and films. Now a new video game is using color – or the lack of it – to symbolize oppression and freedom in the 1940s.
"The Saboteur" (Pandemic Studios, Electronic Arts), which hits stores today, is an action-adventure game based in Paris during the German occupation of World War II. You play Sean Devlin, a character inspired by the true story of William Grover-Williams, an English racer who joined the British special ops unit.
You'll use a broad range of weapons, explosives and vehicles to throw the Nazis out of Paris. But it's the visual aspects of "The Saboteur" that are most interesting.
Lead designer Tom French's team made Paris black and white at the beginning of the game; color gradually bleeds in as players progress and sections of the city are liberated from Nazi control. French says it was a middle-of-the-night idea.
"We wanted to make the City of Light feel occupied [by the Nazis]," he says. "We wanted to suck the life out of it."
French says the challenge was making black and white still look like it has depth and feel to it. Turning colors off makes everything flat, so French's team drew inspiration from the movie "Sin City" to make it look cool, he says.
If you think once you've 'colored' an area you are safe, guess again. French said Paris never gets completely colorized, and some parts turn to black and white again as the Nazi retake certain areas of the map.
"Once you take out a sniper, you never have to worry about him again," he says. "But there is a point where the Germans take back a headquarters, turning it to black and white again."
The design team traveled to Paris to get a firsthand look at the city and the buildings. French says they came away with a lot of information.
"I spent three hours in a cemetery imagining firefights," he says. "We visited Resistance museums, taking pictures secretly and scribbling notes."
They came away with more than 2,500 photos, but French believes it was worth it. "We wanted to give [Paris] an organic feeling."
As with most games with wide-open spaces to roam, repetition of buildings can be a problem. The team used what French calls "Legos" to create buildings where they could mix and match different elements without having to create new buildings from scratch every time.
"Climb all the buildings," French advises. "Use every square inch to make sure you experience the depth of the game."
"The Saboteur" is available for the PS3, Xbox 360 and PC. It is rated M (Mature – blood, intense violence, nudity, sexual themes, strong language).
Posted by: Larry Frum for CNN.com
Filed under: Games • Gaming • video games