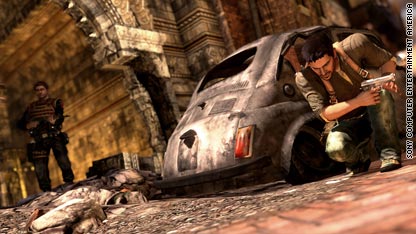 Uncharted 2 wins 2009 Game of the Year
At the end of the year, we look back on the past 12 months to try to figure out what went right - and what's coming up on the horizon. The gaming industry is no different, and gamers are trying to determine what games succeeded and which will be the sequels-to-come in 2010.
Spike TV hosted the Video Game Awards 2009 on Saturday and handed out hardware to some of the best games of the year. All the big games were nominated in 28 different categories, from best game based on a TV show or movie, to best fighting game and, finally, game of the year. Each platform also got a "best of" award voted on by fans.
Top honors went to "Uncharted 2: Among Thieves" for game of the year, beating out "Assassin's Creed 2", "Call of Duty: Modern Warfare 2", "Left 4 Dead 2" and the only non-sequel out of the nominees, "Batman: Arkham Asylum."
"Uncharted 2" also picked up best PS3 game, while "Left 4 Dead 2" got best Xbox 360 game. "New Super Mario Bros. Wii" was chosen best Wii game and "Dragon Age: Origins" was the best PC game.
The night wasn't all about looking back at 2009. There were enough world-premier and first-look videos to whet the appetite for 2010. "God of War III" won the award for most anticipated game of 2010.
One of the biggest surprises included a look at the debut trailer of "Batman: Arkham Asylum 2," which features a burning Gotham City and a laughing Joker seen getting a blood transfusion. The Clown Prince of Crime obviously survived the "final" battle with Batman, but is definitely in recovery mode and homicidal as ever.
Another game goes the sequel route in 2010 was "Star Wars: The Force Unleashed II." The debut trailer features the voices of Yoda and Darth Vader trying to sway the main character from the first game to their side of the force.
But probably the brightest light for 2010 will be shining on the newest incarnation in the Halo franchise. The first ever in-game footage of "Halo: Reach" highlighted the group interactions as players will be taking on the role of Lieutenant with the call sign Noble Six.
Other announcements included the addition of Green Day to the "Rock Band" game, a new "Prince of Persia" game and a "Tron: Evolution" game that will obviously be tied in to the upcoming movie.
If you were hoping to catch your breath after this year's blockbuster games, time's up. Make sure your platforms are ready because this is going to be a wild, exciting ride in 2010.
Posted by: Larry Frum for CNN.com
Filed under: Games • Gaming • video games