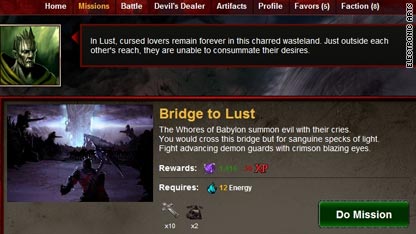 Play different Circles of Hell
Marketing an upcoming video game is a difficult balance between showing enough to excite gamers and spoiling the story by giving away too much.
Electronic Arts is taking a different approach by using Web-based games to promote "Dante's Inferno" (Visceral Games), a video game loosely based on Dante Alighieri's epic poem about one man's journey through the afterlife. The game focuses on a trip through hell, emphasizing its nine levels and seven deadly sins.
So to get gamers in the mood, EA created two Facebook applications called "Go To Hell" and "Battle of the Damned." "Go To Hell" gives Facebook users the opportunity to banish someone, or something, to a level of hell. Once the person has been banished, other users can vote to further punish or absolve them.
So far more than 9,600 "souls" have been sent to hell, and EA Senior Product Manager Phil Marineau says no one is immune. "You can send any group or Facebook friend to Hell," he says. The most-banished entity? Electronic Arts itself.
Runners-up: "Transformers" actress Megan Fox (sent most often to Lust and Greed) and politician-turned-author Sarah Palin (Treachery, Fraud, Heresy, Lust, and Greed).
The idea behind the app is to get gamers familiar with the nine circles of hell they will encounter in "Dante's Inferno."
"Battle of the Damned" allows players to traverse through different levels of hell in a quest to face off with Lucifer himself.
"They [Facebook games] are becoming platforms in and of itself," says Marineau, who believes using social media to promote video games is likely to increase because of the one-on-one communication it offers between developers and fans.
"Dante's Inferno" will be released on February 5 in North America and February 12 in Asia for the PS3 and Xbox 360. The game is rated M (blood and gore, intense violence, nudity, sexual content).
Posted by: Larry Frum for CNN.com
Filed under: video games