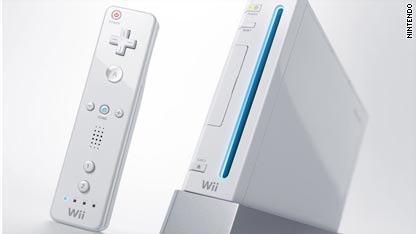 Nintendo Wii
Nintendo scored the worst in a new Greenpeace report on efforts by electronics companies to be ecologically responsible.
In the "Guide to Greener Electronics", Nintendo's score of 1.4 out of 10 rated it 18th out of 18 companies that produce cell phones, gaming consoles and computer equipment. Each company was rated in three categories - chemicals and chemical management, e-waste, and energy.
Nintendo scored zero on all e-waste criteria and received their most points in the chemical category. They have PVC-free internal wiring in their Wii consoles and banned the use of some chemicals. They are also attempting to eliminate the use of all PVCs, but have not set a timeline for its phaseout.
Cell phone manufacturer Nokia led all companies with a score of 7.3, down slightly from last year's ranking. Greenpeace praised the company for its comprehensive voluntary take-back program, which attempts to educate cell phone users about the benefits of recycling old phones.
Sony Ericsson, Toshiba and Phillips rounded out the top 4 companies in the report. Dell, Fujitsu, Lenovo and Microsoft joined Nintendo in the bottom 5.
Posted by: Larry Frum for CNN.com
Filed under: cell phones • Energy • environment