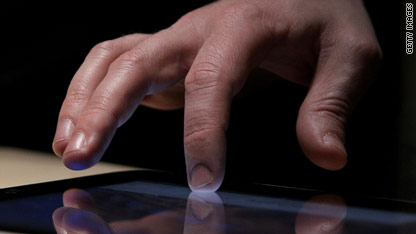 testing captions
Leading up to Apple's Wednesday announcement, I was pretty giddy. I'm in the market for a new laptop - or really a sub-notebook or netbook - so I was hoping this would fit the bill.
And hey, the iPad tablet computing device that Apple unveiled is pretty cool. It has a nice, big screen, a new and seemingly zippy processor, a new bookstore (the iBookstore) and even new iWorks apps to help you get stuff done. With the full-size, touch-screen keyboard and the Pages word processing app, I could easily take notes in meetings or even write blog posts with ease.
But I'm not sold. Apple's first-generation products are infamous for glitches, and there are some key features missing in the iPad Apple CEO Steve Jobs debuted this week.
So I'll wait to see the next-gen device before I decide to buy or not.
Here's why:
1) No camera. Um, what???
2) A 3G data connection is $129 extra plus $30 a month for unlimited data? No thanks.
3) The price. Sure, others are excited about the starting price of $499. But the high-end model, which I would want, doesn't seem worth it.
But what do you think? Did apple hit the mark, or miss it completely? What features were you surprised by and what are you annoyed isn't there?
Posted by: Cody McCloy
Filed under: Apple • iPad