January 12, 2010
Posted: 11:31 AM ET
The Santa Fe New Mexican reports a man claiming to suffer from electromagnetic sensitivity is suing his neighbor for refusing to disconnect her electronic devices.

Santa Fe, New Mexico resident Arthur Firstenberg claims that his neighbor Raphaela Monribot's use of electronic devices such as cell phones, computers, compact fluorescent lights and dimmer rheostats is aggravating his "electromagnetic sensitivity" and causing him to get sick.
"Within a day of [Monribot] moving in, I began to feel sick when I was in my house," Firstenberg writes in his affidavit. "The electric meter for my house is mounted on [Monribot's] house. Electromagnetic fields emitted in [Monribot's] house are transmitted by wire directly into my house."
A request for preliminary injunction claims Fristenberg's condition has left him homeless. Fristenberg "cannot stay in a hotel, because hotels and motels all employ wi-fi connections, which trigger a severe illness. If [Firstenberg] cannot obtain preliminary relief, he will be forced to continue to sleep in his car, enduring winter cold and discomfort, until this case can be heard."
The Santa Fe New Mexican notes "Firstenberg's motion is accompanied by dozens of notes from doctors, some dating back more than a decade, about his sensitivities."
However, scientific studies such as this 2005 trial at the Psychiatric University Hospital in Germany suggest electromagnetic sensitivity is strictly a psychosomatic disorder.
The major study endpoint was the ability of the subjects to differentiate between real magnetic stimulation and a sham condition. There were no significant differences between groups in the thresholds, neither of detecting the real magnetic stimulus nor in motor response.

We found no objective correlate of the self perception of being "electrosensitive." Overall, our experiment does not support the hypothesis that subjectively electrosensitive patients suffer from a physiological hypersensitivity to EMFs or stimuli.
Do you acknowledge Fristenberg, and others claiming electronic sensitivity, may be suffering real physiological effects and should be allowed to live free from electronic devices? Or should treatment be strictly psychological?
Posted by: Wes Finley-Price -- CNN.com Webmaster
Filed under: cell phones • computers • Medicine • mobile phones • online news • science
January 8, 2010
Posted: 03:04 PM ET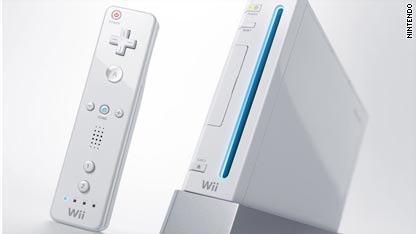 Nintendo Wii
Nintendo scored the worst in a new Greenpeace report on efforts by electronics companies to be ecologically responsible.
In the "Guide to Greener Electronics", Nintendo's score of 1.4 out of 10 rated it 18th out of 18 companies that produce cell phones, gaming consoles and computer equipment. Each company was rated in three categories - chemicals and chemical management, e-waste, and energy.
Nintendo scored zero on all e-waste criteria and received their most points in the chemical category. They have PVC-free internal wiring in their Wii consoles and banned the use of some chemicals. They are also attempting to eliminate the use of all PVCs, but have not set a timeline for its phaseout.
Cell phone manufacturer Nokia led all companies with a score of 7.3, down slightly from last year's ranking. Greenpeace praised the company for its comprehensive voluntary take-back program, which attempts to educate cell phone users about the benefits of recycling old phones.
Sony Ericsson, Toshiba and Phillips rounded out the top 4 companies in the report. Dell, Fujitsu, Lenovo and Microsoft joined Nintendo in the bottom 5.
Posted by: Larry Frum for CNN.com
Filed under: cell phones • Energy • environment
January 4, 2010
Posted: 06:34 PM ET
Hey there Internet! Just like Shaq, Ellen, Britney and the gang, CNN's technology team is now on Twitter.
What could this glorious new Twitter feed be named, you ask?
Well, we decided to be really zany. We named it @CNNTech!
Luckily, this new feed comes just in time for our coverage of the Consumer Electronics Show this week in Las Vegas, Nevada. Look for updates from CNN writers and producers like John D. Sutter, Brandon Griggs and Valerie Streit, who will find all of the latest and greatest gadgets from the oversize tech show.
It won't stop at CES. We'll keep posting our latest tech stories, cool tech links and observations. Will Google announce a new phone on Tuesday? Check back at our site - http://www.cnn.com/tech - and on our Twitter feed to find out.
Follow us if you like, and let us know what you think! Twitter's all about the conversation, so feel free to join ours.
–The CNN Tech Team
Filed under: technology • Twitter
January 1, 2010
Posted: 06:50 PM ET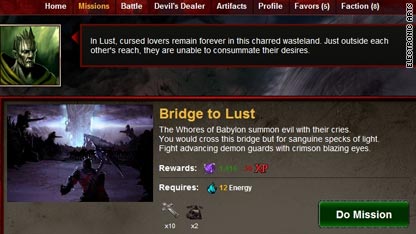 Play different Circles of Hell
Marketing an upcoming video game is a difficult balance between showing enough to excite gamers and spoiling the story by giving away too much.
Electronic Arts is taking a different approach by using Web-based games to promote "Dante's Inferno" (Visceral Games), a video game loosely based on Dante Alighieri's epic poem about one man's journey through the afterlife. The game focuses on a trip through hell, emphasizing its nine levels and seven deadly sins.
So to get gamers in the mood, EA created two Facebook applications called "Go To Hell" and "Battle of the Damned." "Go To Hell" gives Facebook users the opportunity to banish someone, or something, to a level of hell. Once the person has been banished, other users can vote to further punish or absolve them.
So far more than 9,600 "souls" have been sent to hell, and EA Senior Product Manager Phil Marineau says no one is immune. "You can send any group or Facebook friend to Hell," he says. The most-banished entity? Electronic Arts itself.
Runners-up: "Transformers" actress Megan Fox (sent most often to Lust and Greed) and politician-turned-author Sarah Palin (Treachery, Fraud, Heresy, Lust, and Greed).
The idea behind the app is to get gamers familiar with the nine circles of hell they will encounter in "Dante's Inferno."
"Battle of the Damned" allows players to traverse through different levels of hell in a quest to face off with Lucifer himself.
"They [Facebook games] are becoming platforms in and of itself," says Marineau, who believes using social media to promote video games is likely to increase because of the one-on-one communication it offers between developers and fans.
"Dante's Inferno" will be released on February 5 in North America and February 12 in Asia for the PS3 and Xbox 360. The game is rated M (blood and gore, intense violence, nudity, sexual content).
Posted by: Larry Frum for CNN.com
Filed under: video games