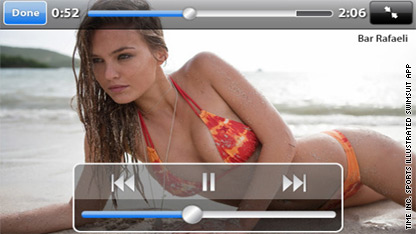 The Sports Illustrated Swimsuit app is still available in the app store.
Apple has tightened its restrictions on sexy or suggestive apps for the iPhone and iPod Touch, and many of the most popular programs in the iTunes app store have been removed.
While speaking to the New York Times, Apple executive Phil Schiller explained, "It came to the point where we were getting customer complaints from women who found the content getting too degrading and objectionable, as well as parents who were upset with what their kids were able to see."
Several days ago the developer of the Wobble app posted the results of his discussion with Apple on his blog. The Wobble app, which adds a jelly-like wobble motion to any user supplied photo, was recently removed because advertisements suggested it could be used on photos of breasts.
I have spoken with Apple, and the following are the new rules:

1. No images of women in bikinis (Ice skating tights are not OK either)

2. No images of men in bikinis! (I didn't ask about Ice Skating tights for men)

3. No skin (he seriously said this) (I asked if a Burqa was OK, and the Apple guy got angry)

4. No silhouettes that indicate that Wobble can be used for wobbling boobs (yes – I am serious, we have to remove the silhouette in this pic)

5. No sexual connotations or innuendo: boobs, babes, booty, sex – all banned

6. Nothing that can be sexually arousing!! (I doubt many people could get aroused with the pic above but those puritanical guys at Apple must get off on pretty mundane things to find Wobble "overtly sexual!")

7. No apps will be approved that in any way imply sexual content (not sure how Playboy is still in the store, but …)
While most apps containing bikini-clad women are threatened, Phil Schiller defended the Sports Illustrated app to the Times. "The difference is this is a well-known company with previously published material available broadly in a well-accepted format," he said.
As of this morning, a Playboy app was also still available, suggesting Apple may accept sexual content if the developer is associated with a strong brand.
Apple has struggled to keep the app store clean, but these new policies remove many of the store's most popular programs. Parents can enable the app store's parental controls and adults can simply choose not to download content they do not approve of.
In a blog post today, Fortune.com columnist Philip Elmer DeWitt linked the purge to next month's release of the iPad tablet computer, which will run iTunes apps and which Apple plans to market for home and school use.
How do you feel about Apple's decision? Should material that is so widely accepted be banned because it is objectionable to a relative few?
Posted by: Wes Finley-Price -- CNN.com Webmaster
Filed under: iPad • iPhone • iPod • mobile phones • smartphones