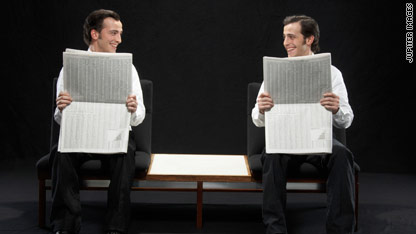 I've rarely felt more confused than last night when I signed on Facebook and saw Lady Gaga, Miley Cyrus and Heather Graham's pictures on my News Feed.
It took me a minute to realize I hadn't suddenly become part of a celebrity social circle - my friends simply had changed their profile pictures to those of celebrities.
But I still didn't know exactly what was going on until I did some searching.
As it turns out, it's "Doppelganger Week," the latest cultural meme to take Facebook by storm, and it has a number of people switching their profile pictures to celebrity lookalikes. After climbing out of the metaphorical hole I had been hiding in the last few weeks, I realized the immeasurable extent of Doppelganger Week's popularity.
Justin Smith, the editor of Inside Facebook, assured me I'm not alone in my delayed discovery.
"No official dates are associated with [Doppelganger Week], he said. "As more people discover it, it will continue to grow. There are 350 million people on Facbeook. It could be a while, not necessarily just a couple more days."
This is by no means the first cultural trend on Facebook. Masses of women have posted the color of their bras on Facebook in honor of breast cancer awareness. And others have made status updates out of the Urban Dictionary definitions of their first names.
Smith said Doppelganger can make for some funny social interactions:
"There was one awkward interaction where someone commented, 'Wow you're looking great theses days,' not knowing (the picture) was a celebrity. But this is to be expected. People are still discovering it," he said.
Despite the trend's many followers, CNET isn't jumping on "Doppelganger Week" bandwagon. The site says the celebrity alter-ego photos could violate Facebook's Terms of Service.
Facebook asks its users not to post photos they don't have the rights to.
In an e-mail to CNN.com, Facebook spokeswoman Kathleen Loughlin said the issue hasn't come up yet:
Users are responsible for the content they post, but as always, Facebook will respond to requests for removal that it receives from copyright holders. In this case, we have received no such requests.
Posted by: Stephanie Goldberg -- CNN Intern
Filed under: Facebook • technology