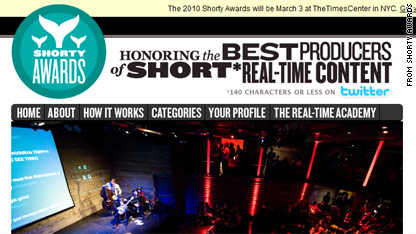 The Shorty Awards - the real-time Web's version of the Oscars - has released its list of finalists.
Check out the list here. You can vote on your favorites until Friday at noon ET. (More on how to do that).
Winners will be announced at a March 3 ceremony in New York City.
The awards are voted on through Twitter and are doled out to popular Twitter users in a number of categories, from tech and science tweets to literature and "customerservice" posts.
CNN anchor Rick Sanchez hosted the first Shorty Awards last year.
Below, I listed a few stand-outs from the 2010 Shorty finalists. Some made my list because they're cool, others because it seems odd they would have risen to such Twitter stardom. I'm a little surprised that the only Twitter user on the list that I currently follow is @NASA. But maybe I'm just that uncool?
Sesame Street (kids' show)
Stephen Fry (British actor)
Smashing Magazine (design)
Paula Poundstone (comedian)
Adam Savage (myth buster)
The Llama (bossy animal)
Posted by: John D. Sutter -- CNN.com writer/producer
Filed under: Shorty Awards