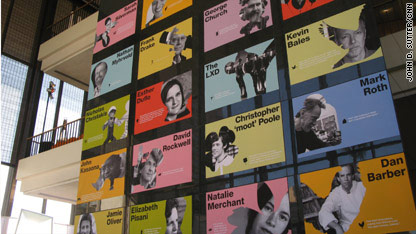 Hi there from the TED Conference in Long Beach, California. This is one of the brainiest and most eclectic gatherings around - a chance for the world's big thinkers to swap ideas about how to make all of our lives better.
The conference format is simple: 30 or so people give presentations, each only 18 minutes long. Then those talks - which are far better than most corporate PowerPoints - are posted online at TED's Web site.
Outside the main stage, about a half-dozen conference sponsors have set up exhibits. I took a quick tour on Wednesday, the first day of the conference. Here's my take on some of the best ideas I heard floating around the halls here:
Data makes you healthy: It's no secret that many of us are collecting unprecedented amounts of digital data about our lives. We post to social networks, track our finances and, increasingly, upload information about where we are and what we're doing.
That data has the power to improve our health, said Paul Tarini, of the Robert Wood Johnson Foundation, a non-profit supporting digital health initiatives.
Tarini said acts as simple as stepping on the scale each morning and recording the results can help people better understand their health and wellbeing. He said such data knowledge is only in the "first generation" for now, but he expects health data collection to become standardized. And we'll likely share all of our vital signs with doctors, so we can spot problems before they start nagging at our health.
Two sites he said are worth checking out: Patients Like Me and dLife. Let me know what you think of those.
Entrepreneurs will rebuild Haiti: Carl Schramm, CEO of the Kauffman Foundation, said the best way for the West to help rebuild Haiti is to encourage Haitian entrepreneurship.
Haitian people need to realize their own potential to start and own businesses, he said, in order to rebound from the earthquake and build a more stable nation.
Business development should be encouraged, and we shouldn't all expect magical results overnight, he said.
"The Ford Motor Company did not drop with 400,000 employees out of space," he said.
Pocket ultrasounds: Medical technology that once filled rooms at hospitals now can fit in a doctor's pocket, said Linda Boff, spokeswoman for GE. Her company is coming out with a smartphone-sized ultrasound device called V-Scan, which will be available within two weeks. She expects that device - and a forthcoming mobile EKG device - to change rural medicine in the U.S. and in developing countries.
She didn't offer details on the price of the V-Scan but said the ability to diagnose and treat illnesses at a remote clinic rather than only in major cities will save money.
$3 coffee: If people were willing to pay $3 for a cup of coffee instead of $2, coffee growers' lives in the developing world would be forever changed, said Doug Zell, CEO of Intelligentsia Coffee.
That may seem self-serving, but Zell said coffee consumers should ask questions about where their brew originates, and how much of their money is actually going back to the developing world.
He believes this kind of consumer consciousness - and our desire to root out coffee stories, from source to store - will help make the world a better place.
"I don't think a lot of people know where coffee comes from," he said.
Posted by: John D. Sutter -- CNN.com writer/producer
Filed under: health • TED2010