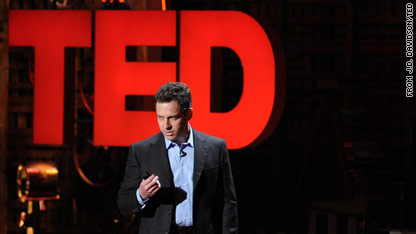 In the face of constant news about how the Internet connects people and empowers them, Sam Harris provided an interesting and contrarian perspective here at the brainy TED Conference in Long Beach, California.
The eternal skeptic and author of "The End of Faith" responded in this way when I asked him what the most destructive technology on the planet is:
"Increasingly the Internet itself, given our reliance on it, is a source of destructive technology. I think we really have to worry about cyber terrorism and cyber crime increasingly. But there's obviously nuclear proliferation and bio-weapons and chemical weapons."
But the Web isn't completely bad, he said:
"I think it's had two diametrically opposed effects. One effect has been really good. It's created transformation and empowered people and allowed us to debunk bad ideas in a very ... decisive way. It's almost created a cognitive immune system for the planet."
He continued: "It's also empowered pranks and pseudoscience and bad information because every person on the Internet can sort of find the people like them and everyone can find an audience so there are certain forms of ignorance that would more or less be unthinkable without the Internet. Global jihad has been massively empowered by the Internet. Even things like the 911 truth conspiracy. That, to my mind, is an Internet phenomenon. No one would publish those books. This is something that is born of Web sites and Internet commentary."
It's yet to be seen whether technology's overall effect on humanity has been good or bad, he said.
"The final chapter is not written on that. It's made it much better and yet it's given us the power to make it worse. It's conceivable that if we fail to build a truly viable global civilization we could use technology to immiserate ourselves more deeply than we would have had we not invented the technology."
Posted by: John D. Sutter -- CNN.com writer/producer
Filed under: Internet • technology • TED2010