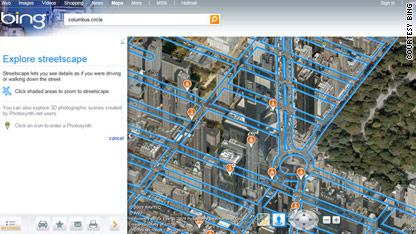 Microsoft Corp. on Thursday unveiled updates to its Bing search engine - and they seemed to wow the crowds here at the TED Conference in Long Beach, California.
First, Blaise Aguera y Arcas, architect of Bing Maps, demonstrated a live-video add-in to to the search engine's mapping feature. He zoomed into 3-dimensional images of streets in Seattle, Washington, and showed off a feature that integrates live video feeds into those images. Microsoft says this might be useful, for instance, if you wanted to see how long a line outside a restaurant was on Valentine's Day.
Check out a video demo here. It's pretty impressive.
Next, Microsoft's research lab announced a maps app that lets people, virtually, stand on the street and look up at the sky to see constellations.
And finally, Microsoft says it's zooming back from page links to give people pages of image results that can be categorized and sorted like index cards. In a demo, a company representative shuffled through TED Conference presenters, organizing their digital cards by field of study, year of their speech and other categories.
Check out some of the demos here.
Let me know what you think. Is Bing's "decision engine" making headway on Google - which is still the powerhouse in that market? Google also won some fans here with a Nexus One smartphone demo in which a rep spoke into his phone in English and asked the phone to translate his voice into Spanish. Then the phone spoke for him.
Posted by: John D. Sutter -- CNN.com writer/producer
Filed under: Google • Microsoft Corp. • TED2010