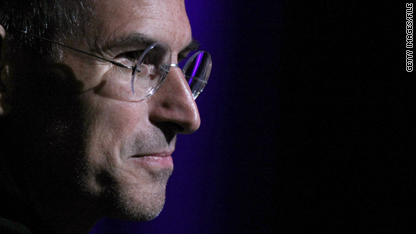 Reclusive Apple CEO Steve Jobs will lend his approval, and cooperation, to a book about his life, according to a report in The New York Times.
The authorized biography will be written by Walter Isaacson, former managing editor of Time magazine, says the Times, referencing two unnamed people briefed on the project. "The book, which is in the early planning stages, would cover the entire life of Mr. Jobs, from his youth in the area now known as Silicon Valley through his years at Apple, these people said."
Isaacson is the author of bestselling biographies of Albert Einstein and Benjamin Franklin. Neither he nor Apple (big surprise) would comment to the Times about the rumors.
"The news will come as no surprise to anyone who has worked with Isaacson," writes Fortune's Philip Elmer DeWitt, who spotted Isaacson in the audience at last month's iPad launch event in San Francisco.
"If there is one thread that runs through his [Isaacson's] long career in journalism and public service, it's his talent for spotting the most influential people in any room and finding a way to get close to them," wrote DeWitt in a post today on Fortune's site.
There's no doubt that Jobs' life story would make a compelling read. From his role in helping to pioneer the personal computer in the late 1970s to his contentious departure from Apple and triumphant 1997 return to his more recent appearances as iconic pitchman for such revolutionary products as the iPod and iPhone, Jobs has had a remarkable career.
Throw in last year's health scare - Jobs had a liver transplant after losing an alarming amount of weight - and his reputation as a brilliant but secretive tech visionary, and you have a larger-than-life character with enough drama for several books.
The question is whether Jobs will allow Isaacson to write candidly about Jobs' demanding managment style and king-sized ego. According to the Times, Jobs has reacted angrily to some of the unauthorized biographies of him that have appeared in recent years and has even directed Apple stores to temporarily stop selling other books from the same publishers.
"Cooperation with Mr. Isaacson could be a sign that Mr. Jobs has emerged from his recent health battles with more of an interest in shaping his legacy," the Times wrote.
What do you think? Will an authorized biography of Steve Jobs shed meaningful new light on a fascinating figure, or will it be a self-serving homage to someone who doesn't need more hype?
Posted by: Brandon Griggs, CNN.com Tech section producer
Filed under: Apple • books