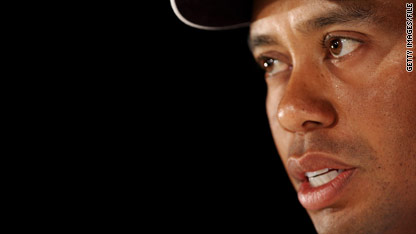 Tomorrow, the tabloid-friendly tale of golf star Tiger Woods is poised to become the biggest online video event of the year.
Woods has called a press event to speak publicly for the first time since a Nov. 27 car crash outside his home spiraled into a cavalcade of reports about his marital infidelities and sexual exploits.
His statement will be broadcast live on Ustream – the popular online video site – by its partner, CBS News. The event is scheduled for 11 a.m. ET.
Massive international interest in Tiger's golf future and the story's salacious details – combined with the fact that the appearance falls in the middle of the workday for many in the United States – suggests that online viewership could easily enter the millions.
Tiger will be chasing a pack of young vampires if he hopes to be Ustream's biggest star, though.
In November, more than 2 million unique Ustream viewers watched live red-carpet activity before the premiere of the blockbuster movie "Twilight: New Moon."
Ustream also has social-media tie-ins, letting users post messages to Facebook, MySpace and Twitter as they watch – and, no doubt, increasing interest as they do.
Posted by: Doug Gross -- CNN.com producer
Filed under: Internet • online video