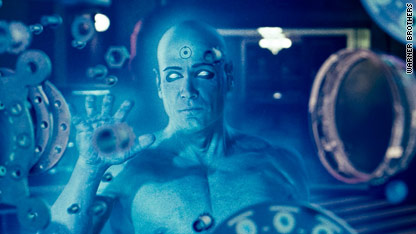 You've probably had moments watching science fiction films when you thought, "Naw, that couldn't happen." And it's true - sci-fi movies often contain elements that don't conform to the laws of physics.
But modern science can say a lot about the plausibility of such things as stopping an asteroid from destroying the planet, and these are teachable moments, experts said today at the annual meeting of the American Association of the Advancement of Science in San Diego, California.
Take the asteroid example: films such as "When Worlds Collide" are good about estimating the impact of celestial objects hitting our planet, said Sidney Perkowitz, Emory University physicist and author of "Hollywood Science." In real life, the Tunguska Event, in which a meteor hit part of Siberia, Russia, in 1908, decimated hundreds of square miles of forest.
The Barringer Crater in Arizona, nearly a mile wide, was also created by a meteor. Science fiction movies, however, often incorrectly portray the "save the day moment," since not even an H-bomb has the power to deflect an asteroid, he said.
The powers of superheroes and villains do bring up important concepts in physics, said James Kakalios, technical consultant on the recent "Watchmen" movie and a physicist at the University of Minnesota. For instance, quantum tunneling - the idea that particles can pass through energy barriers - is how Dr. Manhattan teleports in "Watchmen" and how Kitty Pryde walks through walls in "X-Men." Dr. Manhattan's blue color can be explained through a phenomenon called Cerenkov radiation, he said, with the blue glow resulting from the leakage of high-energy electrons.
Believability is important to filmmakers because they don't want viewers' attention to drift away from the story, Kakalios said. He noticed, for instance, that in "Iron Man," Tony Stark is using the correct soldering tool and in the right way. "So you're not thinking about Robert Downey Jr. playing a role, you're thinking about Tony Stark making an Iron Man suit," he said.
You can watch Kakalios' popular YouTube video about the science of "Watchmen" to learn more. And watch for more on the science of superheroes on Monday on CNN.com.
Posted by: Elizabeth Landau -- CNN.com Writer/Producer
Filed under: science • technology