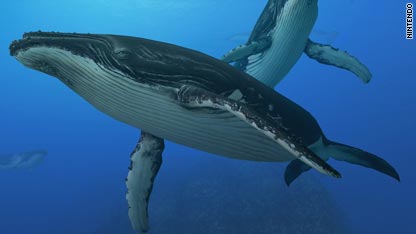 The deep, blue sea
After many hours of killing mutated humans ("BioShock 2"), redeeming souls in Hell ("Dante's Inferno"), or breaking out my military skills ("Battlefield: Bad Company 2" demo), it is nice to just unwind with a new game that can substitute for a tropical vacation.
"Endless Ocean: Blue World" (Nintendo, ARIKA) is the sequel to a 2007 game that emphasized relaxation and calm. The new version on the Wii, which hits stores today, has its calming moments as well - but there's an added element of adventure to it.
Players can dive into oceans around the world and find all kinds of varied marine wildlife and fauna. The visuals are great and the animals, from the tiny seaweed seahorses to the massive humpback whales, are quite lifelike. And there are opportunities to learn about the animals' habits and behaviors when you discover new species.
It would be very easy to just sit back and watch the fish go by, as in the first version of "Endless Ocean." But there is a storyline to be followed.
The action involves finding out about the "Song of Dragons," a mystery that takes players around the globe in search of clues and treasure. You can also heal or calm sick or agitated fish with a device called a Pulsar.
The game is not hardcore by any stretch of the imagination. But it is a nice change of pace or even an educational game for youngsters who want to learn more about marine life. Players can even dive with their friends by using Nintendo's Wi-Fi connection.
Speaking for myself, I'd rather relax with a tropical drink in hand and watch the fish go by than try to follow the game's adventure storyline. I like a little more adrenaline in my gameplay. In other words, those mutated humans aren't going to kill themselves.
Other games coming out this week: "Heavy Rain" (2/22 for PS3), "Sonic & Sega All-Stars Racing" (2/23 for PS3, X360, DS, WII), "Napoleon: Total War" (2/23 for PC) and "Metal Slug XX" (2/23 for PSP).
Posted by: Larry Frum for CNN.com
Filed under: Games • Gaming • Nintendo • video games