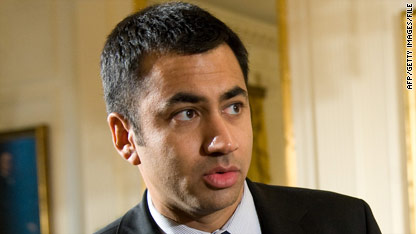 Actor-turned-White House staffer Kalpen Modi, better known by his former name, Kal Penn, spoke two years ago at the San Diego Convention Center during Comic-Con 2008, promoting the "Harold and Kumar" sequel. This past weekend, he appeared in the very same convention center in a suit and tie, reading a statement from the White House.
Since I was in San Diego last year for Comic-Con, attending the meeting of the American Association for the Advancement of Science in the very same venue this weekend was a little jarring. Instead of thousands of geeks clad in elaborate costumes to celebrate characters from comic books, movies, and TV shows, I was surrounded this time by thousands of scientists. Instead of networks and studios promoting their movies and shows, researchers were here explaining their work.
Seeing Kumar– I mean, Modi, in action as the Associate Director of the White House Office of Public Engagement drove home the point that this was not a costume party anymore. Director Ron Howard also spoke at AAAS, further blurring the line between science and celebrity.
But Modi wasn't the only crossover between Comic-Con and AAAS. James Kakalios, technical consultant on "Watchmen" and a physicist at the University of Minnesota, delivered a version of the very same speech he gave about the science of comic-book heroes at Comic-Con 2008. And I acquired a lot of brochures at AAAS just like I did at Comic-Con, and even came away with some fun, geeky swag (a magnetic button that flashes brightly colored lights in honor of the 50th anniversary of the laser).
Of course, AAAS does not dominate the convention center like Comic-Con did; there are other events going on in various halls of the complex, including a home improvement and landscape show. The huge registration hall for Comic-Con was eerily empty this weekend. AAAS is believed to draw about 6,000 attendees; Comic-Con 2010 is slated for 126,000 people. It's like comparing a small town to the entire city of Hartford, Connecticut.
I would assume that at Comic-Con 2008 Kal Penn was surrounded by giddy fans who waited in line for hours to see him. On Friday, a much more subdued audience listened to him talk about partnerships between science and the arts.
That meant I had comparatively little competition in approaching Modi afterwards and asking the question we all want to know: Does he have any plans for going back into acting?
"Perhaps at some point," he told me, and then explained that many people have come from the private sector to the current administration. "I would hope to continue to serve for the next few years, and you know, after that, I'm not sure. I don't have any, sort of, set plans after that."
And since this was not Comic-Con, I professionally waited until he walked away to blush, smile, and sigh like a giddy fan.
Posted by: Elizabeth Landau -- CNN.com Writer/Producer
Filed under: Movies • science