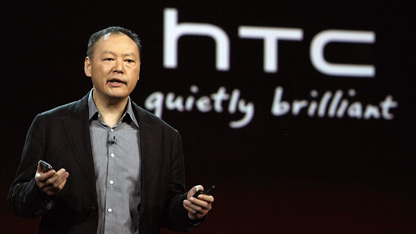 HTC CEO Peter Chou speaks at the Consumer Electronics Show in Las Vegas.
Apple has filed a lawsuit against Google phone manufacturer HTC, claiming many of the company's popular smartphones infringe on patents related to the iPhone.
Apple alleges HTC violates as many as 20 patents, including multi-touch support, screen rotation, and "unlocking a device by performing gestures on an unlock image."
Ars Technica notes, "Apple is seeking treble damages for willful infringement, punitive damages, interest, and attorney's fees in addition to a permanent injunction barring HTC from making, using, importing and selling devices that infringe on Apple's patents."
Apple's press release includes a brief statement from CEO Steve Jobs:
"We can sit by and watch competitors steal our patented inventions, or we can do something about it. We've decided to do something about it," said Steve Jobs, Apple's CEO. "We think competition is healthy, but competitors should create their own original technology, not steal ours."
The lawsuit does not specifically name Google as a defendant, but Apple's claims against HTC indirectly attack Google's Android operating system and its new Nexus One handset, which is produced by HTC.
In an email to TechCrunch a Google spokesman supports HTC, "We are not a party to this lawsuit. However, we stand behind our Android operating system and the partners who have helped us to develop it."
Fortune's Philip Elmer DeWitt gathers online reaction to the lawsuit in this post.
The full lawsuit can be read here (pdf).
Posted by: Wes Finley-Price -- CNN.com Webmaster
Filed under: Apple • iPhone • smartphones