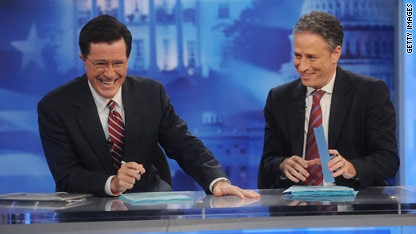 Comedic television hosts continue to be at the center of programming battles. Comedy Central, owned by Viacom, Inc., has decided to pull "The Daily Show with Jon Stewart" and "The Colbert Report" from Hulu.com, according to The Wall Street Journal.
As of March 9, Hulu will lose the rights to the two half-hour shows, but that doesn't mean they're disappearing from the Internet entirely. Full episodes will still be streamed on TheDailyShow.com and ColbertNation.com.
Andy Forssell, Hulu's Senior Vice President of Content and Distribution, characterized the split in a blog post as a parting of ways that may not be permanent, noting that Comedy Central's content had been incredibly beneficial to the free service.
"In the past 21 months, we've had very strong results for both Hulu and Comedy Central, in terms of the views and revenue we've generated, thanks to a couple of key trends," Forssell wrote. "First, more and more of our viewers have voted with their time by making these shows a regular part of their day. And second, we've driven steadily increasing revenue per view as advertisers voted with their budgets to take advantage of innovative ad formats and very strong advertising effectiveness."
So why the split?
"Maybe Viacom is hoping that viewership on its own air and websites will improve if the shows aren't available elsewhere," wrote Samuel Axon on the social-media news site Mashable. "We're also not sure exactly what caused the arrangement between Viacom and Hulu to end. Hulu simply said it was unable to secure the rights. Viacom might have asked for a financial deal the site was unable to agree to."
The news sparked much grousing online among Hulu users and fans of the shows.
"This sucks. Hulu is the future of TV, and the big execs at the studios know it, and they know it will kill their old revenue streams (subscriptions) so they're trying to kill it before it has a chance to mature," wrote a user named Chris in a post on Hulu's blog.
"Hopefully eventually the studios will see the potential for major revenue streams through sites like Hulu, but it won't happen until TVs come with a Hulu sticker & people can just tune in like another channel. That's the future – it's just a matter of waiting for the studios to realize it," Chris added.
Posted by: Breeanna Hare, CNN.com
Filed under: Hulu • television