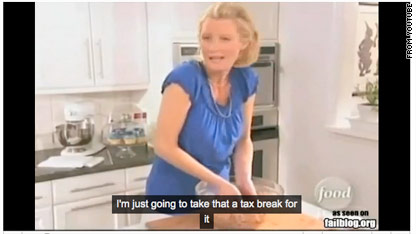 I logged on to YouTube today, eager to test the automatic-captioning feature made available to all users Thursday.
I plugged in my headphones, clicked on the first video I saw - a clip from the Food Network show, "Semi-Homemade Cooking" - and turned on captioning by clicking the "cc" icon in the lower right-hand corner of the screen.
Before the captions appeared, a message popped up that read, "Please note: Transcribed Audio is an experimental service that uses Google's speech recognition technologies to provide automated captions for video."
Experimental - they weren't kidding.
"I'm just going to take this and kind of free form it," host Sandra Lee said as she prodded a loaf of raw meat. However, the caption read, "I'm just going to take that a tax break for it."
Other mangled captions have appeared on Twitter and on the new Web meme, YouTubecaptionfail.com.
In a post on the Official YouTube Blog, a spokesperson acknowledges "auto-captions aren't perfect," but asks user to be patient. "Our speech recognition technology gets better every day."
Here's how it works:
"Auto-captioning combines some of the speech-to-text algorithms found in Google's Voice Search to automatically generate video captions when requested by a viewer … Just like any speech recognition application, auto-captions require a clearly spoken audio track," the blog states. "Videos with background noise or a muffled voice can't be auto-captioned." 
A YouTube spokesperson told CNN, "Although auto-captions are imperfect, they're better than nothing and they will help the deaf community to better understand this wide world of video they previously hadn't been able to connect with."
At the moment, auto-captioning only applies to videos in English. In the coming months, YouTube plans to release auto-captioning for many other languages.
Posted by: Special to CNN, Stephanie Goldberg
Filed under: Google • YouTube