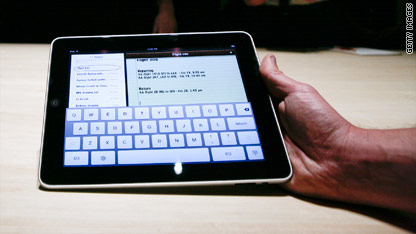 The Oscars made history Sunday night - it was the first time a woman won Best Director, and the first time an ad for Apple's upcoming iPad aired on TV.
The ad, which aired several times during the awards show, follows the same simple formula as Apple's iPhone commercials by featuring unidentified users navigating the iPad with catchy music - "There Goes My Love" by The Blue Van - in the background.
Among the iPad functions highlighted by Apple in the ad: Displaying newspaper articles and e-books, playing movies, showing maps and pictures and typing on the iPad's touch-screen keyboard.
After the commercial's debut, the iPad became a trending topic on Twitter and on blogs.
The new ad wasn't Apple's only presence at the 82nd-annual Academy Awards. Steve Jobs was spotted on the red carpet - in a tux, not his usual black turtleneck. The Apple CEO, who presumably was there supporting Disney/Pixar's "Up," is a shareholder and member of the Walt Disney Company's Board of Directors.
The iPad will be available in the United States April 3. Customers can begin pre-ordering the device March 12.
What do you think about the iPad ad?
Posted by: Special to CNN, Stephanie Goldberg
Filed under: Apple • iPad