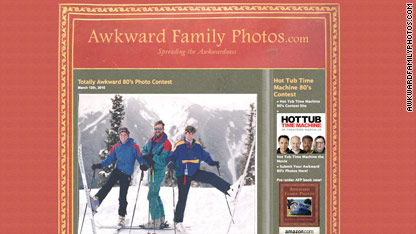 The first time the creators of the humor blog Awkward Family Photos heard from one of their subjects, they were prepared to get an earful.
They did, but not like they expected.
"He said, 'If you think that's awkward, wait until you see this" and sent an even weirder picture, said Doug Chernack, who along with partner Mike Bender launched the blog last May.
Since then, the compendium of fashion disasters, crying babies and poorly considered poses has become a viral hit, drawing more than 100,000 visitors a day. And soon, it will be a book.
At the South By Southwest Interactive festival in Austin, Texas, Bender and Chernack announced the book is available for pre-order now and will be released May 4.
The "ultimate awkward family photo album" will include "Behind the Awkwardness" – interviews with some of the people pictured – as well as interviews with department-store portrait photographers who explain the origins of some of those ridiculous-looking poses.
About two-thirds of the photos in the book have never been shown on the Web site, according to Bender.
For the book, every single person pictured had to sign a release form, they said, including one family from Latvia who only has access to a fax machine once a month.
None of the subjects who gave their permission to be in the book asked to be paid, Bender said.
Since starting with about 10 family photographs, including some of their own, the pair of screenwriters from Los Angeles say they now get 200-300 a day from as far away as China, Russia and Brazil.
The key to getting people to share their less than glamorous moments? They say it's their decision to avoid a mocking tone.
"We both kind of felt like we wanted to do this, but we wanted to do it in a way that had a more celebratory tone," Bender said.
In fact, the lead image on the site Friday evening was a photo of Bender himself - kicking like a Rockette in skis with other family members.
With the book complete, Bender and Chernack said they have plans to expand their awkward online empire – but weren't ready to give out any details.
"There is more awkwardness in the works," Bender said. "The nice thing about awkwardness is it's never-ending."
Posted by: Doug Gross -- CNN.com producer
Filed under: Internet • pop culture • SXSW Interactive