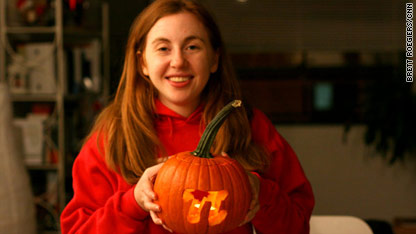 Pumpkin pi.
Editor's note: Geek Out! posts feature the latest and most interesting nerd culture news. From scifi and fantasy to gadgets and science, if you can geek out over it you can find it on Geek Out! Look for Geek Out! posts on CNN's SciTech blog.
Happy (almost) Pi Day, everyone! I'm going to be eating some pie with my friends Sunday to commemorate the day. But Pi Day (see my CNN.com story here) wasn't always so well-recognized.
When I was 13, I thought I was different because several of my hobbies involved the number pi. For me, the ratio of circumference to diameter of a circle held many exciting possibilities. Since no one had proven that the digits were random, yet there were infinitely many of them, I saw this as an amazing opportunity for creative expression, and perhaps some code-cracking too.
For instance, you can put pi to music: using a piano, make middle C=1, D=2, E=3, and so on, you have a song representing pi. At the first instance of "0" the melody breaks down a bit (I wasn't quite sure what to do with the "0" anyway), but I think there's a natural musical ending ("53421") - ending back on middle C - with the number 1 at digit 95.
I also did a lot of pi-related creative writing back in my teenage years, including this song "American Pi." Here's a poetry technique you can try too: the number of letters in each word correspond to a digit, so a "pi poem" begins with a three-letter word, a one-letter word, a four-letter word, and so on. Here's an example I wrote, representing (3.1415926535897932384626433832795).
Why, π? Stop, π! Weird anomalies do behave badly!
You, madly conjured, imperfect, strange, numerical,
Why do you maintain this facade?
In finite time you are barbaric.
You do wonders, mesmerize minds!
It was also fun to memorize digits from the poster in my math classroom. When that poster ran out around digit 50, I turned to books. To remember the digits of pi, I primarily relied on a rhythm in my head that grouped 2, 3, or 4 digits together at a time. To me it was three point one four one five nine two six and so on, although more ambitious pi memorizers may use other methods.
Today, it appears that pi become much more mainstream than when I first fell in love with it. Back in 1997, I had only my books and a few Web sites to draw from for pi inspiration. Now, there are hundreds of pi-related Web resources, not to mention a great deal of enthusiasm on YouTube – you'll find pi recitations far longer more than my personal record of 178, and pi songs that are more ambitious than my own. It's on "The Simpsons," in the movies, and a lot of other places you'd least expect. There's even a Kate Bush song involving the digits of pi. Judging by how many pi-related t-shirts there are, I'd say it's become a status symbol in this whole "geek is chic" movement.
Apparently it's not so weird to like pi anymore. In fact, pi has actually brought me closer to other people. One of my good friends, also a pi fan, learned of my existence in 2002 when I published an opinion piece about pi in the Philadelphia Inquirer. A college classmate spent the morning of March 14, 2005, memorizing more than 200 digits so that he could beat me at Princeton's annual math department Pi Day celebration (he took first place, I took second, we're still friends). In recent years I've worn a pi-related outfit at Dragon Con, which is a great ice-breaker among thousands of self-proclaimed geeks.
Clearly, I will not be the only one eating pie in honor of Pi Day on Sunday. What are you doing for Pi Day? Share your ideas in the comments.
Posted by: Elizabeth Landau -- CNN.com Writer/Producer
Filed under: Geek Out! • Mathematics