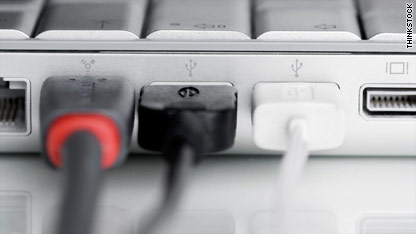 The National Broadband Plan, funded as part of the federal stimulus, does some good things, a citizen advocate said Sunday, but doesn't appear to do enough to drive down high-speed Internet costs for people who can't afford it.
The Federal Communications Commission has rolled out the highlights of its plan – which aims to bring affordable broadband access to everyone in the country – and is expected to present the full plan to Congress this week.
From the outline and advance news of the details, however, Derek Turner, the research director for the nonprofit group Free Press, says it doesn't appear the plan takes a hard-line on cost. And he says high connection costs are the biggest roadblock to universal high-speed Internet access.
As long as a small handful of broadband providers have a lock on the market, they'll keep prices high, said Turner, speaking Sunday at the South By Southwest Interactive festival in Austin, Texas.
"This is a market that has natural monopoly-style elements," said Turner, noting the massive infrastructure costs of running broadband to new areas. "We're never going to have as much competition in broadband as we do in breakfast cereal."
While the Broadband Plan, approved by Congress early last year, focuses on improving infrastructure all over the nation, Turner said only about 5 percent of the population doesn't have broadband because they can't physically get it.
One strong component of the plan, he said, is a move to revamp an existing telephone bill fee people pay to help subsidized phone service for the poor and expand it to include Internet. But a $10 reduction in monthly fees, for example, won't do much good for a poor family looking at a cable, telephone and Internet bill over $100.
"That's corporate welfare and I think it's a waste of money," Turner said.
Turner presented some interesting statistics on the issue – most of them reminders of the "digital divide" in the United States.
Only 41 percent of households that earn less than $35,000 a year have broadband access, Turner said. And only half of minority households have it.
Price is a main reason the United States has slipped to 22nd in the world in broadband adoption, he said. In France a consumer can get 100-megabit-per-second broadband service for about $33 – $2 less than someone in Austin can buy 3-megabit service.
Turner said he's still confident that Congress could improve the plan before it's finalized.
"I'm actually very hopeful for some positive outcomes," he said, "because I've seen stranger things happen in Washington."
Posted by: Doug Gross -- CNN.com producer
Filed under: computers • Internet • SXSW • SXSW Interactive