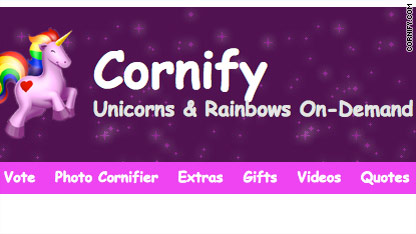 Online "answer engine" Wolfram Alpha and Cornify – a site that helps you paint rainbows and unicorns all over your virtual world – took top honors at the South By Southwest Web Awards on Sunday.
Wolfram Alpha, which computes the answers to users' questions instead of merely searching for existing sites, won both the award for Technical Achievement and the Best of Show judge's pick.
The awards were held as part of the South By Southwest Interactive Festival in Austin, Texas.
All nominees were Web sites that were created or completely overhauled in 2009.
Cornify, which bills itself as "the #1 unicorn and rainbow service worldwide, providing sparkles and happiness for all," won the People's Choice Award, based on online votes.
Of course, being innovators in the online world didn't spare the night's nominees and winners from mockery by host, comedian Doug Benson.
"I was told that the speeches would be short because many of the winners have never left their basement," Benson said.
For the record – all of the speeches were short (although, in fairness, the dozens of parties that dot the streets of Austin during SXSW had already started).
Other category winners of the awards, which are now in their 13th year:
Activism: Waterlife
Amusement: Atlas Obscura
Art: odosketch
Blog: The Vile Plutocrat
Business: theymakeapps
Classic: Mint
CSS: Legwork Studio
Community: Aardvark
Educational Resource: 1066
Experimental: BooneOakley
Film/TV: Jim Carrey
Games: Smokescreen
Mobile: Gowalla
Motion Graphics: We Choose the Moon
Music: Echo & the Bunnymen
Personal Portfolio: Clouds 365 Project
Student: D.I.E.
Posted by: Doug Gross -- CNN.com producer
Filed under: Internet • SXSW Interactive