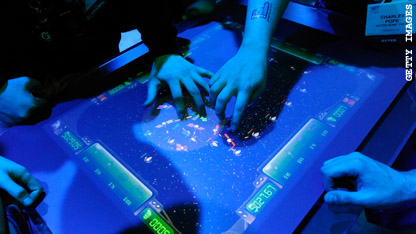 The South by Southwest (SXSW) Interactive festival, which is known for being one of the preeminent events for introducing tech innovations, began this weekend in Austin, Texas. More than 100 cutting-edge interactive businesses set up shop along an exhibit hall floor here, in an attempt to attract attention from tech insiders. I braved the large crowds and product pitches to check out what some of the coolest emerging technologies.
Here are four products that most caught my eye:
Microsoft Surface:
What is it? Multi-touch technology that enables users to interact with their digital content on a tabletop surface without a keyboard or mouse.
Microsoft Surface responds to natural hand gestures and real-world objects, helping people interact with digital content in a simple and intuitive way. Think 'Minority Report' meets the CNN Magic Wall on a beautiful table setting.
During a demonstration of prototype software, a tablet reader was rested on the tabletop while magazine content was dragged over from the Surface tabletop to the users' account with a flick of the finger. Microsoft Surface is currently geared for commercial and developer use, but could be marketed for consumers in the near future. It features an open API which allows developers to build apps to work with the product.
Flavors.me:
What is it? A personal identity management Web site that allows users to combine social network profiles onto the same page for a "unified online presence."
Flavors.me provides a clean interface for curating and showcasing your Facebook, Twitter, Flickr, Tumblr and other feeds into a 'one-stop digital storefront.'  If you've longed for a home worth showcasing your many online wares (personal homepages, lifestreaming, splash and microsites, celebrity fan pages, commercial promotion, brand marketing and everything in between), this could be the tool for you. Flavors.me offers free basic service and a premium package ($20 annual) which includes your own web domain name.
FunMail:
What is it? For users interested in adding a little visual spice to their messages, FunMail from FunMobility is a next-generation visual messaging platform that attaches multimedia to your text, tweet or status update.
FunMail uses a learning technology that gets smarter about making insightful connections between imagery and language every time a FunMail is sent. When I typed in "Hated losing an hour of sleep this morning," for Daylight Savings, for example, the search engine found images of people lying in bed, dogs asleep on couches and one very close up shot of a toothbrush.  I chose the toothbrush.
FunMail is currently available for iPhone and Android devices as well as online.  The company hopes to offer a Blackberry version soon.  Just in time for South by Southwest Interactive the company has released FunTweet, a Web service that turns any Twitter stream into visual messages. There's also a Facebook app.
HuddleHub:
What is it? An online management tool for people who 'own' multiple fantasy sports teams.
If you're a fantasy sports geek like me, then you'll want to check out HuddleHub. The service, which just launched, promises to aggregate your player updates, provide live sports and fantasy updates via web and mobile, and - here's where it gets fun - a recommendation engine for advice on player personnel moves via algorithms.  Just imagine taking some of the guess work out of that pending blockbuster fantasy trade.
I asked the company founder if there were any assurances this tool would provide me the competitive edge to earn championship trophies in my future fantasy sports league endeavors. He said it should help, but made no guarantees.
The Web version of HuddleHub is free and available now.  HuddleHub expects to release an iPhone version in June.
What do you think of these products? Let us know in the comments.
Posted by: Victor Hernandez for CNN.com
Filed under: Microsoft Corp. • social-networking sites • SXSW • SXSW Interactive • SXSWi • technology • Twitter